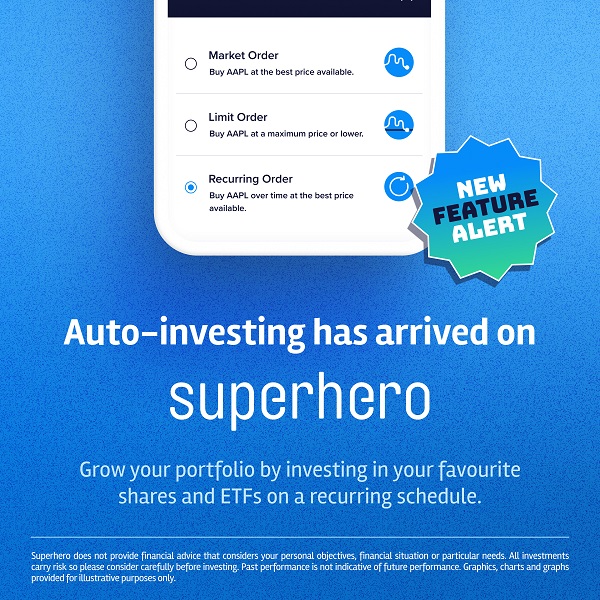 Superhero releases auto-invest feature
Leading share trading and superannuation platform Superhero has today released its long awaited auto-invest feature.
From today, Superhero investors will be able to schedule automatic buy orders on a regular schedule. Investors can set up a recurring order for any share or ETF (Australian or U.S.) within Superhero simply by:
Logging in to their Superhero account.
Depositing funds into their Wallet (they can set up a recurring payment from your bank to their Superhero BSB and Account Number to automate this step).
Finding the stock they want to invest in from the Invest tab or the search bar and selecting 'Buy.'
Selecting the 'Recurring Order' option and setting up their investment amount and schedule.
Confirming their order!
Superhero investors can see their recurring orders in the Pending Orders tab of their Dashboard.
CTO and Co-Founder of Superhero, Wayne Baskin, said the new feature will make it easier for Australians to sustainably grow their wealth through investing.
"We know from recent investor research that nearly half of Superhero investors (45%) put aside a certain amount of money each week or month to invest. With auto-invest, we'll make it easier for Aussies to build their investment portfolios – and develop a long-term investing strategy."
Baskin continued, "At Superhero, our ethos has always been to think investor first. We have a number of product updates on the way, including stop loss orders to ensure our investors have an outstanding experience on our platform."
In addition to the new auto-invest dashboard, Superhero has also launched a new investment discovery experience to help investors find Australian and U.S. shares and ETFs based on investment themes, rising stocks and if they are among the most traded on our platform.
For more information, please see the full how-to guide here.