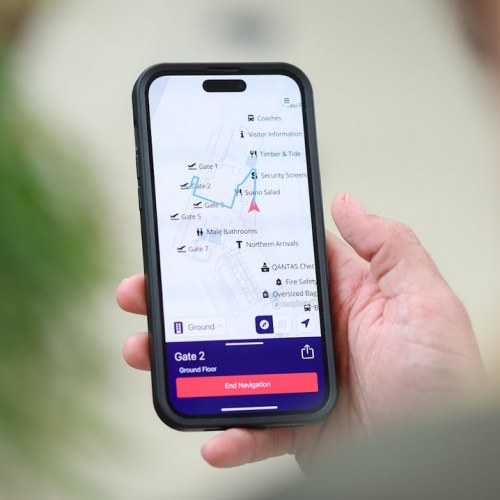 Sunshine Coast Airport first airport in Australia to install BindiMaps, improving accessibility for passengers of all abilities
Sunshine Coast Airport (SCA) has become Australia's first airport to install digital accessible wayfinding solution BindiMaps in a bid to help its 1.62 million annual passengers seamlessly navigate its facilities and become one of Australia's most accessible airports.
The BindiMaps technology was designed with input from hundreds of users who are blind or vision-impaired to ensure the highest possible levels of accessibility and inclusivity, making its installation by SCA an important step on the Airport's journey to become more accessible.
The BindiMaps app uses a network of Bluetooth beacons and smartphone sensors to offer users a choice of text, map view, or audio directions that guide users through the airport using accurate, real-time, and step-by-step directions to any destination.
SCA General Manager Operations Kate McCreery-Carr said BindiMaps would empower all passengers, staff, and visitors to feel confident when navigating the terminal, helping remove barriers while also laying the foundation for future growth.
"Having BindiMaps at Sunshine Coast Airport is a game changer. Our goal is to create a more accessible airport for our community, where all passengers feel welcome, included, and confident when travelling," Ms McCreery-Carr said.
"While the technology can be used by anyone, the benefits it will provide to passengers and visitors who are blind or visually impaired will be significant, allowing them to precisely navigate our terminal with greater ease and accuracy from the moment they enter, to the moment they leave.
"One of the many benefits of BindiMaps is its adaptability, which is crucial as we grow and expand into the future. With BindiMaps, we can update maps, routes and other relevant passenger information ensuring that passengers have the most accurate information no matter the situation.
"Our goal is to make Sunshine Coast Airport the most accessible and inclusive in Australia, and we want to thank the wonderful team at BindiMaps for helping us start this journey."
The installation of BindiMaps coincides with Queensland's Year of Accessible Tourism, a campaign aimed at recognising the importance of accessible tourism experiences and creating opportunities for business.
McCreery-Carr said the Airport was the gateway to the region, and the partnership with BindiMaps would help better cater to visitors of all abilities.
"Our partnership with BindiMaps aligns with Queensland's Year of Accessible Tourism and our goal is to create a more inclusive environment for the local community and visitors alike," she said.
"By creating a culture of continuous improvement and implementing best practice solutions, we hope to lay the foundation for a more accessible and inclusive future for not just our airport, but the entire aviation industry."
BindiMaps CEO and Founder Anna Wright said: "We are excited to partner with Sunshine Coast Airport to help its passengers, staff, and visitors precisely navigate the entire airport with ease and accuracy – especially those with a vision impairment or disability.
"BindiMaps will not only help passengers navigate to obvious places like boarding gates and security, it will also minimise the staffing burden of personalised assistance, manage congestion, and reduce late arrivals at the gates.
"It will also help improve passengers' airport experience by helping them navigate to unique locations to grab their favourite snack, buy a neck pillow and ear plugs, or find a place to charge electronics.
"Our navigation algorithms and network of Bluetooth beacons and smartphone sensors offer a sophisticated navigating experience that is currently unrivaled. For instance, BindiMaps functions a bit like Google Maps, but with 10 to 20 times greater accuracy than the Google satellites and GPS, which can only pinpoint location to around 20 meters compared to 1 to 2 metres indoors for BindiMaps.
"We've had great success at the Budapest Airport, where we won a worldwide tender to offer digital accessible wayfinding services to its 12+ million passengers annually as part of Europe's DANOVA project providing audio navigation solutions for people with low vision and blindness.
"We look forward to helping Sunshine Coast Airport achieve similar results on its way towards becoming Australia's most accessible airport."