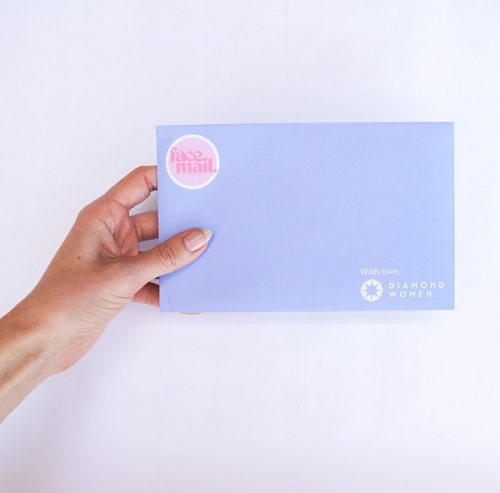 Diamond Women partners with startup Facemail to give back to Aussie women doing it tough
Sydney Women's Organisation Partners with Local Start-up to Give Back to Aussie Women Doing it Tough in our Community.
Founded in 2006, Diamond Women is an organisation dedicated to meet the growing needs of Australian women facing unplanned pregnancies. The established support network has joined forces with Sydney start-up Facemail to initiate a heartwarming partnership aimed at empowering women facing challenging situations within the community. The collaboration introduces a unique opportunity to deliver kindness in the form of self-care and emotional support.
Diamond Women's mission has always been clear: to provide unwavering support to women navigating unexpected pregnancies. Jennifer Gurry, Founder and Executive Director at Diamond Women, explains, "We saw this partnership as a perfect connection between our services, providing mental health resources, such as counselling services and support groups, to women in the community. We provide resources which can help address anxiety, depression, and other emotional challenges that arise during pregnancy and the postpartum period. Complement that with the gift of a face mask and some kind words, and we have a beautiful partnership of professional support with some self-care and kindness. It's a small add-on that makes a massive difference."
In a year marked by a 35% increase in clients seeking termination services, these statistics clearly show the pressing need for comprehensive support systems for women facing difficult decisions during pregnancy. These numbers reflect not only desperation but also the courage it takes to seek help.
Prioritising self-care often takes a backseat when dealing with challenges due to time and financial constraints, but Ms Gurry stressed the importance of it. "Self-care isn't just about pampering your body; it's about nurturing your mind as well. Taking even just a few minutes a day for mindfulness, meditation, or deep breathing can have a positive impact on your mental health. These small practices can help reduce stress, increase focus, and promote emotional resilience, all of which are essential for new or expecting mothers. These masks aren't just masks to help you – they are often sent from one of our team or from a friend, so they are laced with kindness and the knowledge someone was thinking about you. That speaks volumes. It removes feelings of isolation and loneliness, which are huge markers for depression and anxiety."
While the partnership between Diamond Women and Facemail emerged from their shared mission of kindness and support, Ms Gurry shared the story of how it began. "I received one of the masks in a gift pack from a conference and not just loved the product but the concept of kindness shipped to your letterbox. Or maybe just the concept of kindness shipped! After meeting Joce (Jocelyn), we knew we could work together to help people needing some extra care and show how easy it is to spread kindness."
Statistics underscore the need for Diamond Women's services and the critical role they play in the community. In the past 12 months, the business has seen continued growth, with a 22% increase in clients. Notably, there has also been a 33% rise in individuals wanting information, compared to the same period last year.
Facemail, co-founded by Jocelyn Goto, has a deeply inspiring mission of its own – to make kindness more accessible through small acts of generosity. Joce's personal journey, particularly her challenging experiences during her daughter Magnolia's birth
in 2021, led to the inception of Facemail. She sought connection and kindness during her difficult time, and this ethos is at the core of Facemail's mission.
"I'm incredibly passionate about women supporting women, even more so when it comes to pregnancy and motherhood. Facemail is so proud to be partnering with Diamond Women in their efforts to help women feel loved, seen, and supported no matter their circumstances. It's my hope that our face masks are small gestures that go a long way in empowering women to feel confident in themselves," Ms Goto said.
So, how will the partnership work, and who will benefit from these thoughtful gestures? Ms Gurry explained, "This partnership works in that we will provide face masks to our clients through their support person, but more importantly, for every face mask purchased on our site, funds go into providing holistic care for women experiencing an unplanned pregnancy."
The Diamond Women and Facemail partnership launch promises to bring some positivity to women facing adversity. The combined power of emotional support and self-care, can make a meaningful difference in the lives of Aussie women who are doing it tough in the community. As these organisations unite their strengths, they underpin the transformative potential of women supporting women, one kind gesture at a time.
To support or donate to this unified cause, go to Diamond Women's online store, and purchase a face mask. For every face mask purchase, funds will go to supporting and providing holistic care for women experiencing an unplanned pregnancy.