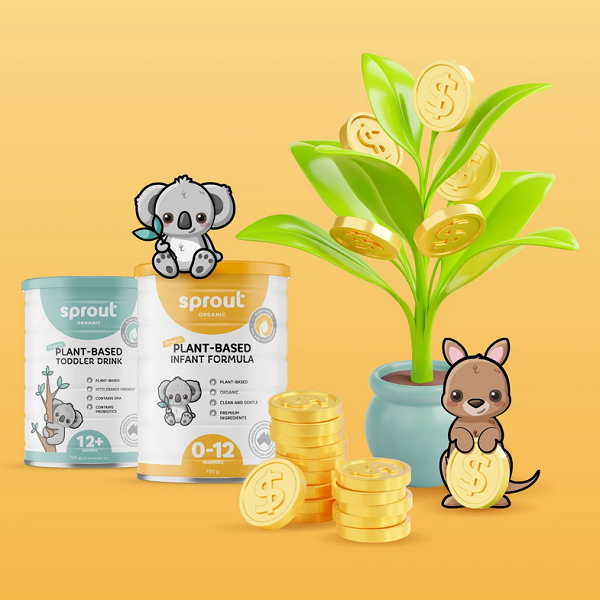 Sprout Organic enters new distribution deal with Australian Pharmaceutical Industries
Gold Coast-based infant formula startup Sprout Organic has entered a new distribution deal with Australian Pharmaceutical Industries (API), expanding its reach and availability to a wider audience through the networks of Soul Pattinson and Priceline Pharmacies.
"We are thrilled to partner with API and have our products available to Priceline and Soul Pattinson pharmacies. This partnership is a testament to our commitment to making plant-based and allergy-friendly nutrition accessible to as many families as possible. We are excited to see our products on the shelves of these respected pharmacies and contribute to the well-being of Aussie kids," said Sel Berdie, Founder and CEO of Sprout Organic.
"Our partnership with Sprout Organic isn't just a business decision; it's a statement of our dedication to providing healthy and diverse options for Australian families, and represents an exciting evolution in our baby category," said Taran Sohal, Baby Category Manager, API Group.
"With the combined efforts of Sprout Organic and API Group, families across Australia will have easier access to plant-based and allergy-friendly choices. We believe in Sprout Organic's vision for a healthier future for our little ones, and look forward to a successful journey ahead," she added.
Sprout Organic is currently running a  crowdfunding campaign on Birchal, successfully reaching its target within 6 hours of opening. Funds raised will primarily be used to accelerate the brands international growth, following its most recent launch into Malaysia and Saudi Arabia. The crowdfund raise will continue until a maximum target of $1.5 million is reached, closing on August 31st 2023.