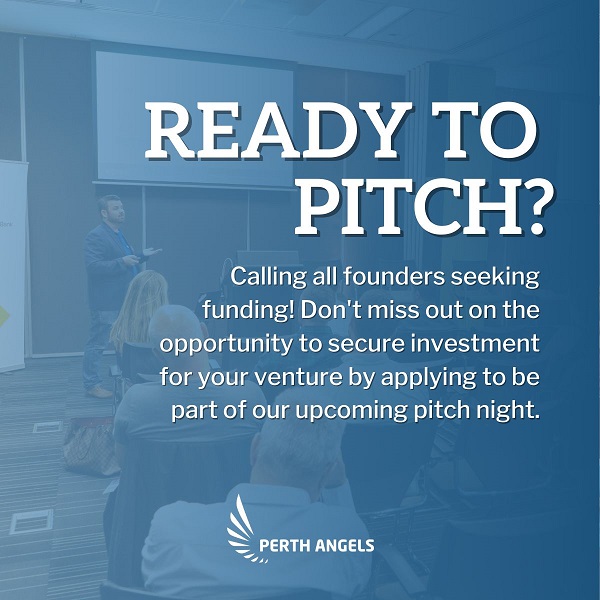 Perth Angels' Pitch Night #51 – Calling all founders
Perth Angels cordially invites all founders to participate in their 51st edition of Pitch Night. This exclusive event will be held on August 29th, 2023 at Carbon Group, offering a unique platform to showcase your innovative business directly to potential investors and industry experts.
Why should you join?
Connect with Perth Angels: Gain direct access to a supportive network known for empowering visionary entrepreneurs.
Expert Insights: Receive constructive feedback and valuable guidance from experienced angel investors to strengthen your business strategies.
Networking Opportunities: Interact with like-minded individuals, fellow entrepreneurs, and seasoned investors, fostering potential collaborations and partnerships.
Unlock Funding Opportunities: Presenting at Pitch Night opens doors to potential funding for your business growth.
If you are not based in Perth or can't attend the event in person, don't worry. There will be the option of pitching via Zoom call.
Perth Angels is committed to nurturing disruptive businesses and believes in the power of game-changing ideas and passionate founders. Don't miss this chance to make a lasting impact and propel your venture towards success.
To participate, register your business by the 7th of August, 2023 here: https://gust.com/organizations/perth-angels/public_profile.
Secure your spot now and shine at Perth Angels' Pitch Night.
For any inquiries or additional information, contact Perth Angels at manager@perthangels.com.
Mark your calendars for August 29th and join an evening of innovation, collaboration, and growth. Perth Angels looks forward to witnessing the brilliance of visionary ideas brought to life on this momentous occasion!