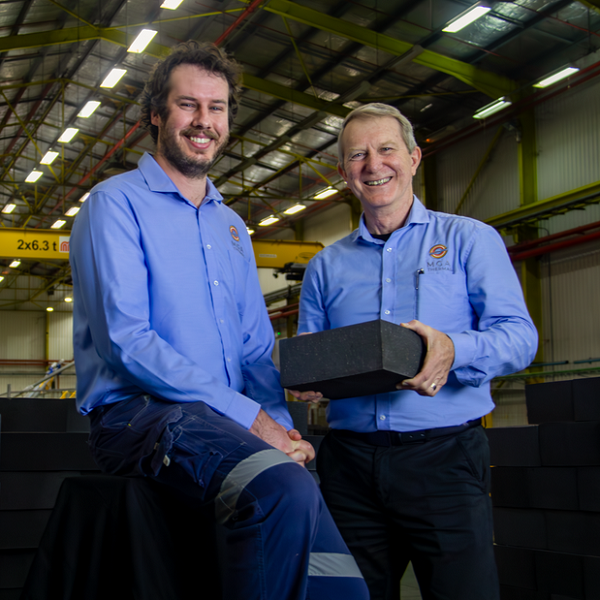 MGA Thermal secures $8.25 million in new funding
MGA Thermal have announced that they have secured $8.25 million in new funding as they scale their long-duration energy storage (LDES) solution. The investment provides a foundation for the next phase of the company's growth, facilitating the commissioning of its on-site production line and accelerating operations well into 2024.
The fundraising effort attracted strong support from existing investors, including Main Sequence, Varley Holdings, Melt Ventures and New Zealand's Climate Venture Capital Fund. MGA Thermal also welcomes Pollination Group and Understorey Ventures as new investors whose involvement validates MGA Thermal's role in unlocking zero-carbon renewable energy storage for grid and industrial applications.
"It's a combination of our purpose-built MGA Thermal Blocks and Thermal Energy Storage (TES) systems that unlocks the transition to clean energy by making it reliable, cost-effective and scalable. With the imminent completion of our production line, we're on track to produce 1,000 blocks per day which can then be assembled into 24/7 renewable energy storage," said Erich Kisi, CEO of MGA Thermal.
With the latest round of investment, MGA Thermal is gearing up for commercial scale as it nears the final stages of commissioning its Demonstration Unit — the world's first of its kind which will provide a tangible example of the TES system in action and substantiate the scalability of the solution for potential customers and partners.
The modular blocks will be stacked into large assemblies within MGA designed TES systems. These TES systems are able to store millions of kilowatt hours of energy in a cheaper, safer and longer-lasting way compared to other dispatchable solutions. A stack of 3,700 blocks in their Demonstration Unit about the size of a shipping container — stores enough energy to power more than 135 homes for 24 hours.
"We're proud of our work and support received to date from the Australian Renewable Energy Agency (ARENA) and energy powerhouse Shell. We're honoured to welcome new supporters, Pollination Group and Understorey Ventures, whose backing is instrumental in propelling our groundbreaking solution and driving us closer to our goal of revolutionising the renewable energy storage landscape," explained Mark Croudace, Deputy CEO and CCO at MGA Thermal.
As the company looks ahead, it remains dedicated to strengthening its team with exceptional talent. The new funding injection allows MGA Thermal to strategically expand its commercial division and invest in engineering and implementation to propel MGA Thermal's position as a market leader in developing TES materials.
"Renewable energy sources come with their limitations, especially when the sun doesn't shine and the wind doesn't blow. Plugging this gap is the reason we exist. MGA Technology is perfectly aligned to generate 24/7 clean steam for harder-to-abate industrial sectors, a rapidly growing very large market domestically and globally. There's no shortage of demand and we're on track to abate 30 million tonnes of CO2 by 2030 — the equivalent of more than 23 years of commercial flights from Sydney to LA," Croudace concluded.
The company's purpose-designed Miscibility Gaps Alloy (MGA) Blocks work by absorbing and storing thermal energy made from renewably generated electricity, surplus energy from the grid or behind-the-meter solar farms. This enables long-term energy storage across solar and wind, generating 24/7 clean steam for hard-to-abate industries and retrofitted power plants.