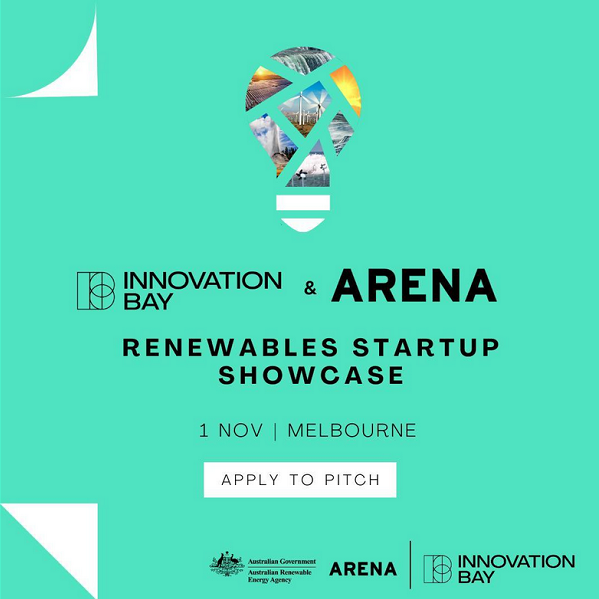 Pitch applications now open for the Innovation Bay & ARENA Renewables Startup Showcase 2023
The Innovation Bay & ARENA Renewables Startup Showcase returns in 2023. Pitch applications are now open for founders in renewables, climate and cleantech sectors.
After a hugely successful event in Sydney in 2022,Innovation Bay and ARENA have once again joined forces for the fourth annual ARENA Renewables Startup Showcase in 2023, taking place on Wednesday 1 November at Cargo Hall in Melbourne. Tickets for this year's event will go on sale on  8 August. Register your expression of interest to attend HERE.
ARENA Renewables Startup Showcase 2023 presents Australia's most exciting early stage renewable technology startups and pairs them with 100+ of the country's leading venture capitalists and angel investors,  supercharging their growth through funding, connections, and advice. Previous events have seen the likes of the world's leading drone stringing system, Infravision, solar manufacturer 5B, and "solar thermal" pioneer RayGen, raise capital and gain meaningful connections as a part of the event.
Darren Miller, CEO of ARENA, said, "Supporting startups in the renewable energy and climate change sector is important to ARENA. Some of our greatest ideas and innovations originate from startups and entrepreneurs and we need to encourage all available talent and new business models to help us to achieve our goal of net zero emissions. We have funded some incredible startups along the way, including MGA Thermal and Infravision, who both pitched at last year's Renewables Startup Showcase. Innovation Bay is all about bringing together innovative startups with private investment to boost growth of these amazing new technologies. We look forward to this year's event – which is now embedded as the premier event in the cleantech sector matching the best startups with investors."
Phaedon Stough, Co-Founder and CEO of Innovation Bay, added, "The ARENA Renewables Startup Showcase event always fills me with so much enthusiasm and pride. The talent we have in this country in the renewables, climatetech and cleantech sector is incredible. Every year we run this event alongside ARENA the more encouraged I become for the future. Being the vehicle to shine a light on the sheer talent and innovation of companies in this space is truly inspiring. We can't wait to deliver this event in November!"
Innovation Bay and ARENA are now calling out for early stage founders in the Renewables, CleanTech and ClimateTech sectors, primed for funding to apply to pitch at this year's most prestigious renewables event. With an expected 70+ applications, a rigorous review process will be undertaken by a carefully selected committee of technology, innovation, renewable and Climate/CleanTeach leaders, who will identify four of the most standout founders and companies to pitch to a live audience. Founders: APPLY TO PITCH HERE
In addition to the hand-selected pitches, guests will be treated to a thought leadership panel on the future of emerging technologies in the renewable energy sector, a sit down gala dinner experience and, as always, incredible networking opportunities.
FOUNDER PITCH APPLICATIONS
Open now until deadline 11:59pm Friday 1 September 
FOUNDERS: APPLY HERE
SNAPSHOT DETAILS
WHAT: ARENA Renewables Startup Showcase
WHEN: Wednesday 1 November, 2023
TIME: TBC
VENUE: Cargo Hall
WHERE: South Wharf, Melbourne, Victoria
TICKETS: Tickets on sale 8 August, 2023 | REGISTER EOI TO ATTEND HERE