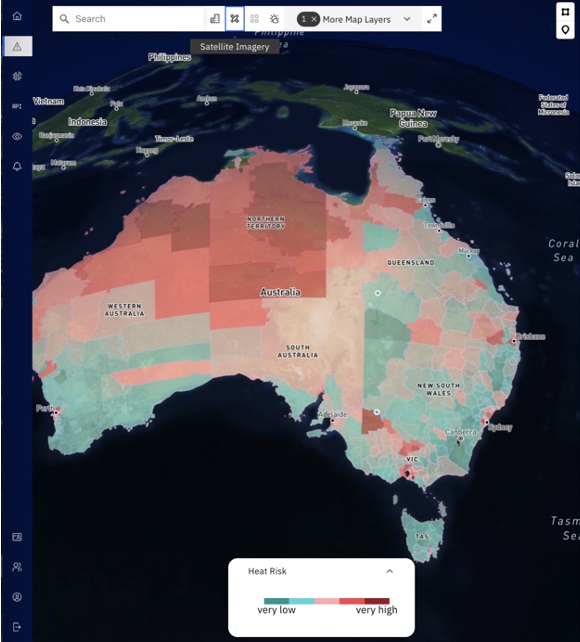 KPMG and ClimaSens collaborate to help mitigate Australia's heat crisis
KPMG Australia and Melbourne-based climate resilience startup ClimaSens have announced a strategic collaboration to help government, agencies and businesses mitigate and manage the threat and impact of extreme heat on people, populations, and assets. Following heat waves across North America, Europe and Asia which have made this year Earth's warmest since at least 1880, Australia is expecting one of the hottest summers on record. There is a pressing need for governments at all levels to plan and prepare for extreme heat, not least because heatwaves contribute to more deaths in Australia than any other environmental disaster2022 summer, with hundreds of thousands more heat related deaths globally estimated over the past few years. 1. It is estimated that over 60,000 deaths were linked just to Europe's heatwaves last year
The collaboration will enable ClimaSens technology to be paired with KPMG's consulting expertise, offering curated access to specific capabilities. The new offering will help decision-makers in government, agencies and businesses plan, prepare, and respond to extreme heat risks, and will support services such as emergency management, social service provision, asset management, property management, urban planning and insurance.
Sarah Vega, National Managing Partner of KPMG Futures, emphasised the firm's dedication to working with innovative startups to tackle major client, industry and social challenges.
"From floods to bushfires and heatwaves, Australia is sadly accustomed to the tragic impacts of heat on our communities. This is something that climate change is only expected to make worse in the coming years. By co-innovating with ClimaSens' market-leading technology, we are able to work with clients to tackle society's most wicked problems – to safeguard peoples' lives, prepare communities and both public and private assets for the impacts of extreme heat and other climate related challenges," she said.
ClimaSens products identify and assess climate risks through its Climate Data Platform. Its flagship product HeatSens provides localised heat risk analysis from a national level down to a one-kilometer grid across all of Australia. Clients include the City of Melbourne and the Australian Red Cross. ClimaSens was recently announced as one of four organisations who together won a global USD$5 million grant from Google.org to create an AI driven tool to provide climate risk information for cities worldwide. ClimaSens was also awarded the Red Cross Humanitech scale up prize in 2022.
ClimaSens founder and CEO Joseph Glesta said the collaboration with KPMG will enable a holistic service that provides the platform's insights and the added value of experience from experts who have supported government at all levels from strategy and policy to action plans and internal transformation.
"Identifying vulnerabilities and then understanding this risk is paramount, as it is not only lives at risk but the ongoing economic impacts of heat that have resounding and lasting impact across a variety of industries. In 2020, loss of productivity from heat exposure in the US cost the economy US$100 billion with annual costs expected to grow to US$500 billion by 2050," he said.
"Without the data to make informed decisions and manage risk, local governments, emergency management, infrastructure providers and those shaping our cities, risk flying blind when planning, building and designing the programs and strategies to plan for tomorrow and mitigate the impacts of heat and further. By adding the depth of knowledge from the KPMG team, the capability of our software can be truly unlocked. This collaboration will empower local governments and critical organisations and services to enhance their resilience in the face of climate change," he added.