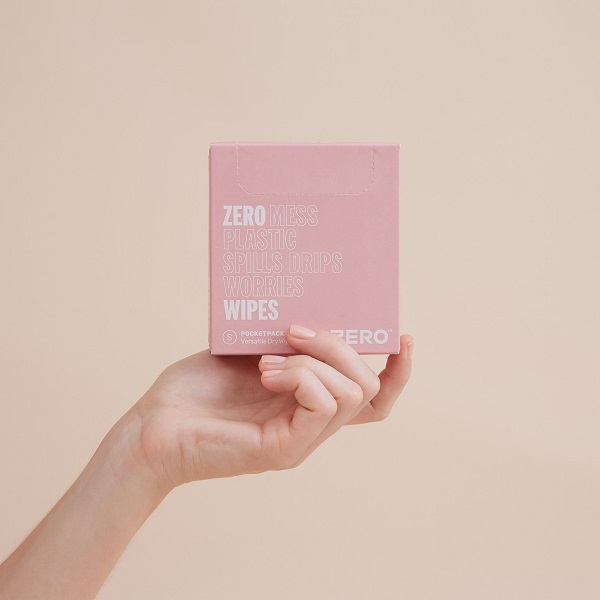 How Georgina Carberry, Founder of The ZERO Store plans on tacking single use plastics when it comes to raising kids
As any parent knows, having a child can be a costly venture. But more than making a dent in your savings, it can also cost the planet. Take single-use baby wipes for instance. They're a staple in almost every nursery and nappy bag around the world, and they're also one of the biggest contributors to plastic-based landfill, taking up to 100 years to degrade. In fact. not everyone realises that 80% of wet wipes are made from plastic, and 100% of them are wrapped in plastic.
To combat the massive single-use waste issue in the baby market, Carberry, along with her husband Damien West, founded The ZERO Store – a concept created to help parents avoid single-use plastics as much as possible. Both are designers, so they loved the challenge or solving a problem and creating a cool concept.
"Parents are time poor and go through a lot of single use products, from wipes to nappies and the rest. We wanted to create a plastic-free and convenient alternative for parents that takes away the guilt," explains Carberry, CEO and Head of Brand at ZERO.
Determined to create a 100 per cent bio-based, reusable, and affordable wipe, Carberry and her team spent months on research and development.
In 2023, Carberry and West launched their first product, a dry, reusable wipe that is completely chemical- and plastic-free and made from 100 per cent sustainably sourced wood pulp viscose (and comes complete with eco packaging). All parents need to do is wet the wipe, use it, rinse it, then use it again.
Compared to traditional plastic-based wipes (which also come in plastic packaging), ZERO's Baby Wipes provide eco-conscious parents a sustainable and hypoallergenic alternative, specifically designed for sensitive baby skin.
Since the wipes are made from wood pulp, they don't leave behind any microplastics, and they are completely biodegradable within 45 days, meaning they won't contribute to landfill and pollution. You can simply toss them in your compost if you have one.
As ZERO Baby Wipes are dry, they're lighter to freight, which means the brand automatically has a lower carbon footprint. Since their materials are natural, they also release fewer greenhouse gases.
Committed to producing the most environmentally friendly product they can, Carberry also notes that ZERO wipes are FSC-certified and PEFC-certified. This means the brand must adhere to independently monitored standards and consider both sustainable forest management and the impact of supply chains.
Not wanting to stop at dry wipes (which can also be used for cleaning and make-up removal), Carberry and West are currently developing the world's first 100 per cent plastic-free wet wipe. Their big goal, however, is to release a plastic-free disposable nappy into the mainstream market.
As Carberry says, eco-friendly products shouldn't be niche – they need to make their way into the shopping trolleys of every parent.
When it comes to moving eco-conscious baby products into the mainstream, ZERO is well on its way, raising more than $1.9 million in capital and more than 152 retail stores locked in.