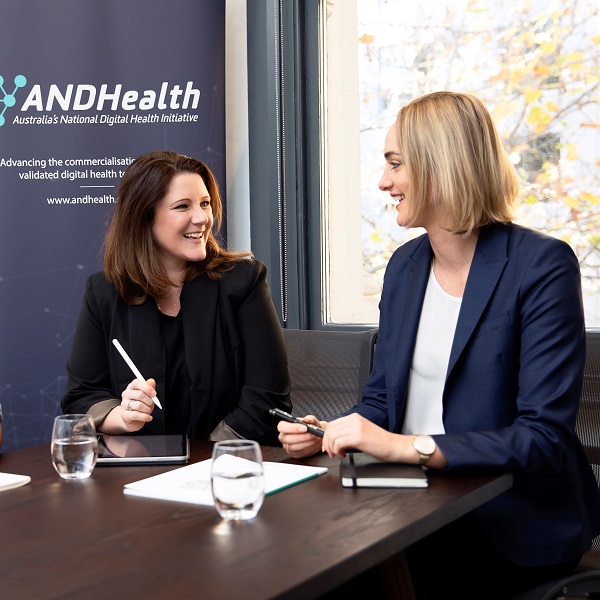 Five promising digital health companies selected to scale exciting new Australian health technologies
Five of Australia's most promising digital health companies have been successfully accepted into the market-leading ANDHealth+ commercialisation program and will scale their products nationally and internationally.
The program will provide the companies with up to $3.75 million in equity-free funding alongside hands-on support by a world-class network of experts to help them to scale their businesses.
ANDHealth+ is the flagship program of leading health technology commercialisation group ANDHealth.  Funded by the Medical Research Future Fund (MRFF), ANDHealth+ is the leading dedicated digital health commercialisation support program in Australia.
ANDHealth CEO and Managing Director, Bronwyn Le Grice said, "ANDHealth+ is a highly competitive program and the selection panel has been impressed by the continual improvement in the quality of applications over time."
"These five exceptional companies will receive highly targeted expert advice and mentoring from international industry leaders, specialised commercialisation expertise, and significant non-dilutive investment to generate the clinical and commercial evidence required to scale their digital health products and services nationally and internationally," Ms Le Grice said.
"Since the first cohort five years ago, ANDHealth+ cohort companies have raised over $148 million in new funding and generated revenues in excess of $49 million, whilst impacting more than 640,000 new patients and generating jobs, clinical trials and commercial pilots," Ms Le Grice said.
The five companies who have been successfully accepted into the program this year are:
Mal Hebblewhite, President and CEO, Atmo Biosciences said, "Atmo is delighted to be selected as a ANDHealth+ cohort member. This program will enable Atmo to advance our health economics and reimbursement plan whilst we prepare for US market entry. Atmo is conducting a multi-site pivotal study to support a FDA 510(K) submission next year. Reimbursement will play a key role in driving clinical adoption. We look forward to working with the ANDHealth team on this initiative."
Kunal Kalro, Founder and CEO of Eugene, said, "We're passionate about creating a world where healthcare is about preventing illness, rather than just treating it. To reach our mission we'll need to get the commercial and market entry strategy just right and follow that up with strong execution. That's why we're really excited to be part of the ANDHealth+ program – we think the support and expertise is exactly what we'll need to jumpstart the next evolution of Eugene."
Arthur Shih, CEO of Humanetix, said, "We are extremely excited to work with the ANDHealth+ program to support our continued expansion from the Aged Care Sector into the wider healthcare ecosystem. The amount of innovation in the healthcare sector is extremely exciting, however each new innovation comes at a cost to our already overwhelmed healthcare workforce, who must adapt to additional systems and processes. We are excited to leverage the ANDHealth+ program and the wider ANDHealth network to understand how the HX platform can make a meaningful impact in removing the noise for our care givers and clinicians and ultimately, simplify care."
Simon Green, CEO of Immunosis, said, "We are delighted to work with ANDHealth to further develop and commercialise our lead product, PrimDx, a diagnostic test for patients with Primary Immune Deficiency. As part of the ANDHealth+ program, Immunosis plans to conduct a clinical validation study in Australia and USA in patients with repeated infections, establish a clinical testing laboratory and perform a reimbursement gap analysis. These steps are critical for the commercialisation of PrimDx in global markets."
John Wright, CEO, Metabolic Health Solutions, said, "MHS has a vision to become the global leader in low-cost diagnostics and data analytics, for obesity and metabolic health. Being accepted into the ANDHealth+ program will allow us to leverage the research experience we have within the UK, together with the ANDHealth network and knowledge base, to develop an effective public health platform for weight and metabolic health that can serve as a model for public health systems globally."
The ANDHealth+ participants above were selected via a rigorous application process which leveraged the knowledge, skills and experience of industry leaders from multiple related sectors as well as ANDHealth's International Investment Advisory Committee.
Successful applicants will now be supported by a dedicated project support team and a multi-sectoral, multi-disciplinary panel of senior executives with demonstrated experience in industry areas relevant to digital health commercialisation and market entry.