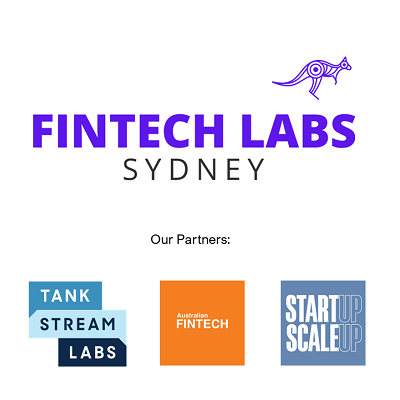 FinTech Labs launched with Tank Stream Labs, Australian FinTech & StartUp ScaleUp
Glen Frost, the Founder and Organiser of the FinTech Awards and the FinTech Summit has launched FinTech Labs, a new event to help FinTech Founders meet the investors, VCs and the advisors they need to get to market, launch and scale their fintech businesses.
"After many months of research with Founders, we were told the hardest part of being a FinTech Founder is to have access to like minded people who want to help, want to invest and want to provide a forum for discussion – FinTech Labs is the solution," said Glen Frost
Details & registration here: www.meetup.com/fintech-sydney/events/295361683/
FinTech Labs is delighted to partner with Tank Stream Labs, as well as media publications Australian FinTech and StartUp ScaleUp – with both organisations providing services that are of value to FinTechs at all stages.
Initially, FinTech Labs will host in-person events in Sydney, and look to expand to other cities as the network grows, and/or other partners and sponsors come on board.
The inaugural event with host the following panel session, followed by two short pitches, followed by networking and introductions:
Panel Topic: Funding for FinTechs; from Seed to IPO
Pierre De Villecourt, FinTech Investor, ICM/FinTech Fund
LinkedIn profile here: https://www.linkedin.com/in/pierre-de-villecourt-306b61/
Jason Maletic, Partner, Ashurst
LinkedIn profile here: https://www.linkedin.com/in/jason-maletic-12322955/
Who's in the room?
VCs/investors/Mentors
Lawyers/Legal/Reg (licensing etc)
Tech stack & service providers (cloud, KYC, core banking, data aggregators, recruitment)
What's the format of the event?
Discussion panel with 3 guests: VCs, Founders, Lawyers
1 or 2 short pitches from fintechs (not full investor pitches)
Frost introduces & connects people in the room who can help each other
"We will accept sponsorship money if we find suitable sponsors. There will be a small fee for attendees ($25) to ensure we cover the cost of the food/drink," added Frost.
DETAILS:
Date:               Thursday 28th September
Venue:            Tank Stream Labs, Level 6, 11 York Street, Sydney
Register here: www.meetup.com/fintech-sydney/events/295361683/
This is an in-person event; attendees will need to joining FinTech Sydney Meetup (no charge) and register for this event ($25 +booking fee) to attend.