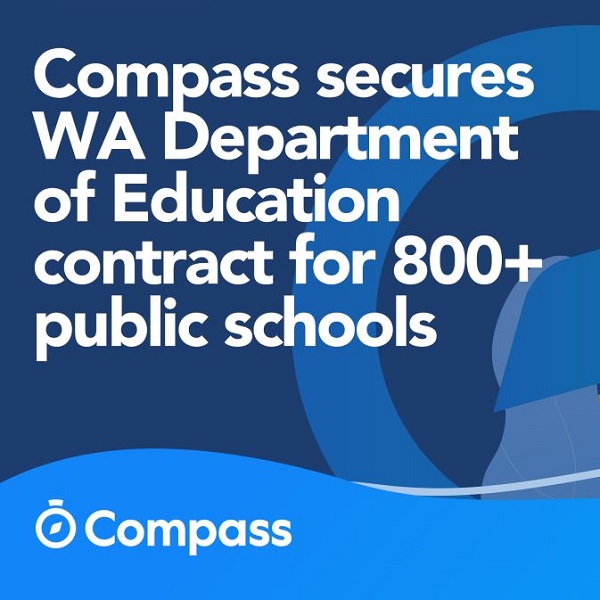 EdTech scaleup Compass secures $63 million WA Department of Education contract
EdTech scaleup company Compass has announced it has won the tender to supply 800+ Western Australian public schools with school management software. Compass will deliver the project in tandem with Australian technology powerhouse TechnologyOne.
The contract, which is worth over $9 million a year over seven years and includes an option for extension, comes after a rigorous tender process which was run by the department over several years. The Department broke the tender up into four categories including school administration, student administration, timetabling and finance – three of which were awarded to Compass. The finance part of the solution will be delivered by Compass in partnership with ASX-listed TechnologyOne.
"We're thrilled Western Australia's Department of Education has chosen local technology providers to power its public schools. After running one of the most stringent tender processes we've ever been involved in, including detailed analysis from independent subject matter experts, Compass has been awarded the contract for all four school management categories," Compass Co-Founder and CEO John de la Motte said, adding, "Supporting local technology jobs is a key tenement of Compass, an ed-tech company that is built in Australia in consultation with teachers from right across the country."
The Victorian-headquartered Compass launched in Western Australia in 2019 and is currently used by 150+ schools in the state. This deal will see the number of WA schools using Compass expand to more than 800. Globally, Compass is investing heavily in innovation with the recent release of analytics, learning and assessment and timetabling features – both of which are experiencing rapid uptake in schools.
TechnologyOne, one of Australia's largest Software as a Service (SaaS) companies, will implement its financial management and supply chain software as part of the digital transformation project. The solution will support the billing, finance, accounting, budgeting and management reporting function for the Department and the schools it serves, providing real-time insights across cash flows and performance to drive efficiency, streamline processes, and save time and money.
Ed Chung, Chief Executive Officer at TechnologyOne, spoke about the company's long-standing experience and deep knowledge across the education and government sectors. "Our solution empowers more than 1.4 million students globally across K-12 and higher education, partnering with Catholic Education, and some of the world's leading universities. TechnologyOne is also trusted by one in four public sector organisations across Australia and New Zealand. This deep sector expertise, honed over the last 36 years, means we understand our customers' priorities: simplifying business processes to deliver outstanding results for their users and the community," said Chung.
Compass, which is used by more than 3000 schools and 4 million parents, teachers and students, was previously selected as the school management system for CEnet, a consortium of over 600 Catholic schools in NSW, QLD, ACT, and TAS, and was the first education platform provider to pass Western Australia's stringent school privacy and data protection regulations, and has recently expanded into Ireland and the UK. Compass also offers a variety of management solutions for individual state schools, enterprise education diocese and governments and private independent schools.