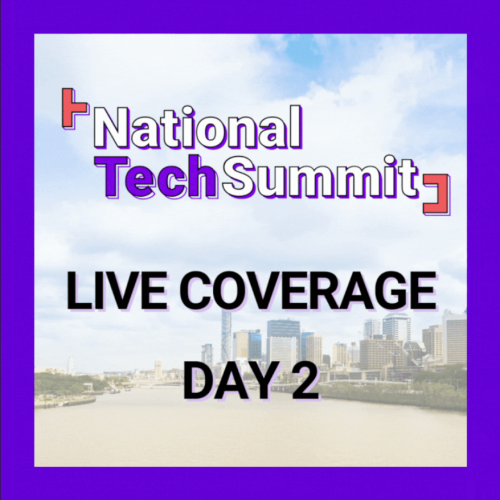 Day Two of National Tech Summit a Watershed for Queensland and Australia's Tech Ecosystem
The second day of Australia's inaugural National Tech Summit – Forging Australia's Tech Future – has kicked off. With a line-up of notable speakers, events and panels including a landmark QLD Tech Jobs Opportunity Announcement by Tech Council of Australia (TCA) CEO Kate Pounder, the Summit is looking to be a watershed event for Brisbane and the country's tech ecosystem.
TCA Executive Director and former Queensland State Development and Innovation Minister Kate Jones stated she was "looking forward to continuing the incredible momentum created on day one of this important event."
Having delivered the day two welcoming address, Ms Jones continued "As a Queenslander, I couldn't be more proud to have played a part in bringing Australia's leading tech minds and innovators together in our great state".
Ms Jones also stated that she was excited to see local Queensland edutech startup superstars Go1 unveil their new Brisbane office immediately after her address.
"The fact that we have world leading technology firms not only coming to Queensland, but being started here says a lot about the incredible progress we've seen in the state's tech ecosystem over the last decade." She said.
Innovation Minister Stirling Hinchliffe said the National Tech Summit was a wonderful opportunity to highlight Queensland's growing innovation sector.
"The primary focus of the Palaszczuk Government's multi-million investment in innovation is supporting the Queensland industries of the future to thrive in a highly competitive global environment," Mr Hinchliffe said.
"We welcome the opportunities presented by the National Tech Summit to promote Queensland's industry capability and entrepreneurial spirit to Australia and the world."
"It's terrific to see The Precinct, the Queensland's Government's startup hub, hosting much of the Summit's second day as a catalyst for developing new nation-leading ideas and expertise."
This unveiling was followed by TCA CEO Kate Pounder's announcement of a major new report on the Queensland Tech Jobs Opportunity. The report highlighted the huge number of jobs arising from technology in the sunshine state, with the sector set to be a major employer over the coming decade.
Ms Pounder said she was excited to make the announcement in Queensland.
"Queensland has quickly become one of the shining lights of Australia's tech ecosystem, with the south-eastern corner of the state in particular being home to some of our country's most exciting start-ups"
The reprt shows that Queensland now has over 140,000 tech workers, with this figure expected to grow to 185,000 by 2030.
"In future, everyone will see major benefits from the state's investment in crucial and cutting-edge technologies. As Australia transitions to being a truly innovation-driven economy, Queensland will be right at the forefront". Ms Pounder said.
This announcement then led into an expert panel of local tech employers including Vu Tran, Co-Founder of Go1; Julia Spicer OAM, Queensland's Chief Entrepreneur; Bevan Slattery, Founder of Soda and Megaport; Yas Grigaliunas, Founder & Chief Evangelist for Circonomy; and Dr Cori Stewart, Founder and CEO of ARM Hub.
Treasurer Jim Chalmer's then delivered the day's address, emphasising the importance of the technology industry to Australia's future economy. The Treasurer's address highlighted the success of Australia's technology firms, and re-iterated the Albanese government's support for the future of the industry.
Following the keynote address, TechnologyOne, another of Queensland's homegrown tech representatives, hosted the highly anticipated 'Tech Minds Meet'. This unique session gave delegates the opportunity to engage in a lunchtime 'ask anything' meet and greet with the day's speakers.
Kate Pounder said the event offered attendees the once in a lifetime chance to gain exclusive access to Australia's leading tech representatives from various specialised fields.
"Opportunities like this are why we wanted to host the Summit. In a country as large as Australia, it's a rare opportunity to bring all of our leading minds together in one room. This collective expertise is something the TCA is committed to further developing". Ms Pounder stated.
The day finished with two simultaneous workshops. The first of these – A CXO's guide to a future-proof workforce – aimed to equip delegates with the knowledge and tools necessary to cultivate resilient, adaptable, and productive companies. Attendees had the chance to bounce ideas off some of Australia's leading experience officers including Didier Elzinga, Founder/CEO of CultureAmp; Louise Nobes, CEO of 42 Adelaide; Sarah Tinsley, General Counsel & Company Secretary at CultureAmp; and Sarah Moran, CEO of Girl Geek Academy.
The other workshop – Shaping AI – was sponsored by Microsoft and gave a deep dive into the latest breakthroughs in artificial intelligence. The workshop provided insights from some of Australia's leading thinkers on safe and responsible AI and the economic, social and environmental opportunities that technology presents including Kate Pounder; UTS Professor Ed Santow; Elanor Huntington, Executive Director of CSIRO; Jason Matusow, and Lee Hickin from Microsoft, Aaron Hill, Managing Director at Accenture; and Sophie Farthing, Head of the Policy Lab at UTS.
The workshop involved a wide-ranging discussion on the legal and economic implications arising from AI advancements and explored the strategic responses necessary to harness the technology's opportunities and manage its risks.
The TCA National Technology Summit 2023 is proudly supported by the Queensland Government. Other key sponsors include TechnologyOne, Amazon Web Services (AWS), Microsoft, Swyftx, Airwallex, CyberCX, Stripe, Go1, Howard Smith Wharves, Nightlife Music and AgriTech Association.