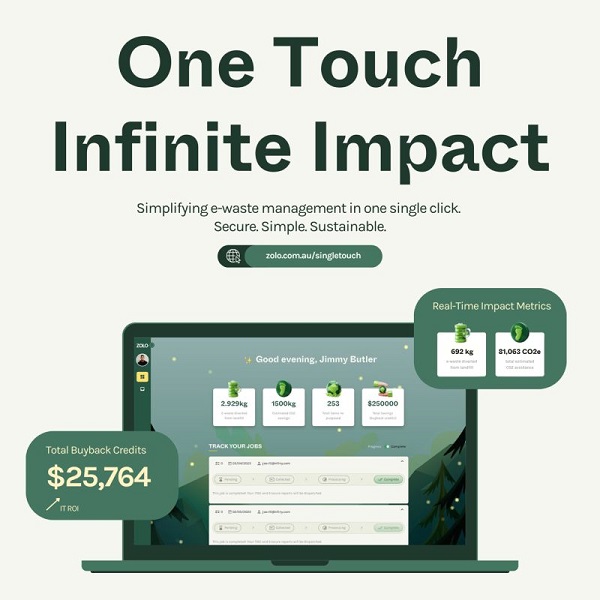 Zolo launches Australian-first solution that streamlines e-waste recycling with a single touch
Zolo, an e-waste recycling company committed to balancing purpose and profit, has launched an Australian-first solution, Zolo Single Touch, streamlining e-waste recycling. It aims to address common pain points such as data security, lack of transparency, and the time-consuming processes associated with traditional tech waste management.
The software includes unique features such as real-time impact visualisation, single-click recycling inventory upload, and full-scale tracking that conforms to ISO regulations, designed to make e-waste recycling hassle-free, secure, and transparent, thereby allowing IT teams to focus on their core responsibilities.
Franz Siasat, Founder and CEO at Zolo said, "Zolo Single Touch empowers businesses to assert control over their tech recycling, minimising carbon emissions while ensuring best in class data security practices. In this era of environmental responsibility and digital transformation, it serves as a sustainable and robust solution for businesses across Australia."
Zolo Single Touch allows users to see real-time data on e-waste diverted from landfill, estimated carbon emissions avoided, devices repurposed and total rebates recouped and earned. The software also employs ISO-compliant tracking to oversee every phase of the recycling process, guaranteeing thorough data erasure and security. This guarantees that all data on the recycled device is not merely deleted but rendered completely irretrievable.
This software offers a seamless and efficient way for businesses in Australia to manage their e-waste responsibly. With user-friendly tools, data security measures, and streamlined recycling services, Zolo Single Touch not only simplifies the recycling process but also contributes to a more sustainable and environmentally conscious future.