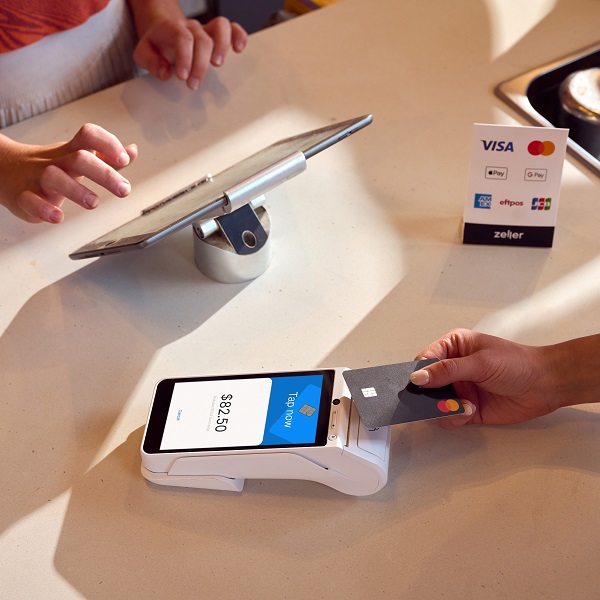 Zeller adds over 100 new point-of-sale integrations to streamline checkouts at small businesses
Zeller, the Australian fintech reimagining business banking, announced today the release of over 100 new cloud point-of-sale (POS) integrations, offering business owners a seamless and self-service experience when connecting Zeller EFTPOS Terminal with their preferred POS system.
With this release, Zeller has expanded its list of integrated POS platforms to include over 600 providers, including new partners Zii, Abacus, and Lightspeed Retail. Whether a merchant is using a cloud-based or on-premise POS system, they can now easily pair with Zeller Terminal in just a few clicks.
"Our focus at Zeller is to offer business owners an efficient and reliable payments solution that easily connects with the other technology and software they already use to run and grow their business," said Joshua McNicol, Zeller Director of Growth. "Our user-friendly pairing feature makes connecting your point-of-sale system with Zeller Terminal effortless, delivering a smooth experience that saves time and minimises errors for our customers."
Benefits of Zeller's POS connections:
Industry-leading integration: Integration between the POS and Zeller Terminal is completely self-service, with new industry-first functionality that is not offered with typical, bank-issued EFTPOS terminals which require third-party support or engineers to integrate.
Faster checkout: Transaction details are automatically pushed from the POS to Zeller Terminal, significantly speeding up checkout and reducing the risk of human error.
Accurate reconciliation: All transaction data is synced between Zeller Terminal and the POS software, making end-of-day reconciliation effortless.
On-device branding: Zeller Terminal's large-format screen can be customised to present the business logo, enhancing brand presence at the point of purchase.
"We are very impressed with the easy, hassle-free way Zeller has integrated with our POS, Abacus. Our payments process is seamless, we have eliminated carelessness and mistakes by removing the requirement for our team to enter payments on both the POS and terminal. This has improved efficiency and made the customer journey and experience better. I would highly recommend Zeller's POS integrations to other business owners," commented Oscar Lenden, owner of Small Bar, Crows Nest.
Nolan Taing, Co-Founder of POS company Zii, expressed his excitement about the new partnership with Zeller, saying, "We are excited to be partnering with Zeller, another Melbourne-based technology company, to provide a sleek, integrated experience for our shared customers. Connecting POS and EFTPOS solutions provide an optimal customer experience."
Learn more about supported POS systems, and access detailed instructions on how to pair your POS with Zeller Terminal, here.