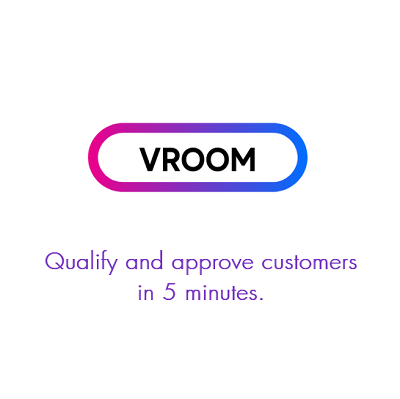 Vroom disrupts the car finance industry as we know it
Drive IQ, Australia's leading dealership finance platform, has announced the launch of Vroom. Vroom uses an AI and matching algorithm to qualify and connect customers with participating lenders. Finance is approved in 5 minutes.
80% of customers receive approval on the stop.  Painful paperwork is something of the past and finance approvals can take as little as an hour.  Revolutionary technology is finally available.
82.5% of millennials arrange their finances online. Millennials use their tech skills to research before they buy. They spend on average 17.6 hours shopping for a car online before heading to a dealership.
A whopping 90% of all car sales are arranged through finance. 39% are financed through a dealership and 61% through other finance sources.
Simon Penhaligon, CEO of Drive IQ and Vroom said, "We have created Drive IQ's Vroom, a streamlined, transparent system which empowers consumers, facilitating easier and more convenient vehicle ownership for a growing client base. Drive IQ is a sponsor of the AADA's National Dealer Convention and will be launching the Vroom product to this audience on 03 June 2022."
"Whether customers are shopping online or visiting the dealership, they can receive instant finance approval. Customers are qualified in less than 5 minutes using the same information needed for a test drive.
"Vroom reviews customer identification information, multi bureau credit information, vehicle details and uses an AI matching algorithm to serve customers with pre-approved finance offers from lenders."
The Vroom proposition for lenders is to provide access to new markets that were previously inaccessible via their traditional distribution channels. In addition (and perhaps more importantly) is the promise to improve the conversion metrics. If we consider that under traditional dealership and broker distribution channels lenders are lucky to see approval percentages above 60%. Using Vroom and the Drive IQ matching engine, approval percentages in excess of 95% are achievable. This leads to interesting concepts for the future of point of sale finance and the improved outcomes for customers, dealerships and lenders alike.
Using the same information collected for a test drive, VROOM's live marketplace delivers same day finance direct from leading automotive lenders. Keeping the process entirely in the customer's hands, VROOM digitally assesses credit file, vehicle data, and customer identification information. AI and a matching algorithm provide qualified lending options. Data is then submitted directly to the lender for full approval. 80% of customers receive approval on the spot. Depending on the lender, cleared funds are available in as little as one hour. VROOM is finance supercharged.