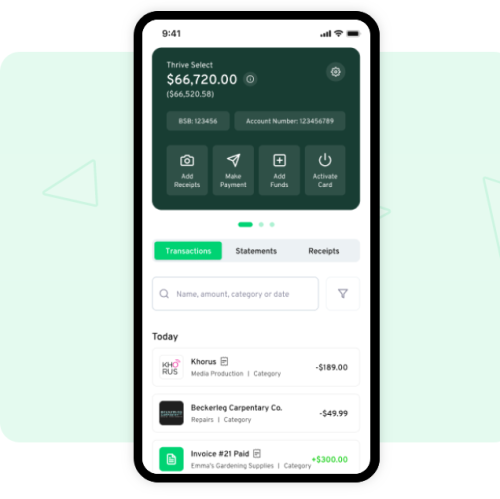 "Too Crazy to Work": How Thriday is banking on AI to take the pain out of tax time
Thriday, a fintech startup founded in 2020, is making waves in the financial industry with its pioneering use of artificial intelligence (AI) and machine learning. By harnessing the power of AI for good, Thriday is transforming the landscape of banking, accounting, and tax. Small business owners and entrepreneurs can now automate their financial processes efficiently, saving valuable time and resources.
Thriday is not your typical financial software company. With a deep-rooted commitment to innovation and a mission to simplify financial management for small businesses, Thriday has positioned itself as a trailblazer in the industry. By leveraging cutting-edge AI technology, Thriday revolutionises how small businesses handle their banking, accounting, and tax-related tasks.
"Our goal has always been to empower small businesses through the use of AI. We recognised the challenges entrepreneurs face in managing their finances, especially during tax time. Thriday is dedicated to providing an intelligent solution that streamlines these processes and allows business owners to focus on what they do best," said Michael Nuciforo, Co-Founder and CEO.
Thriday was founded in Melbourne by a team that recognised the immense potential of AI in revolutionising the financial sector. Driven by a shared passion for using technology to simplify complex processes, the founding team embarked on a mission to transform banking, accounting, and tax for small businesses.
Thriday's mission is clear: to empower small businesses by leveraging AI and machine learning to automate and streamline their financial operations. By combining cutting-edge AI algorithms, powerful machine learning models, and a user-friendly interface, Thriday has developed a suite of innovative solutions that address the pain points of banking, accounting, and tax processes.
"We saw the potential of AI to transform tedious tasks and eliminate the complexities associated with banking, accounting, and tax. Our mission is to empower business owners, simplify their financial processes, and enable them to make data-driven decisions easily," explained Mr Nuciforo.
Thriday's intelligent platform offers a range of features designed to automate and streamline banking, accounting, and tax tasks. From real-time bank transaction categorisation and reconciliation to automated bookkeeping and tax lodgment, Thriday covers every aspect of financial management.
With its intuitive interface, Thriday enables business owners to easily track their expenses, providing a real-time overview of their financial health. The platform employs AI algorithms to categorise transactions accurately, reducing the need for manual entry and minimising errors.
Through continuous analysis of financial data, Thriday's algorithms learn and adapt, becoming increasingly accurate over time. This empowers the platform to automate repetitive tasks, identify patterns, and provide valuable insights to business owners.
Thriday's AI-driven system not only saves time and effort but also enhances accuracy. By eliminating manual data entry and automating calculations, the platform significantly reduces the risk of errors that often plague traditional financial management processes.
"Thriday's technology harnesses the power of machine learning and artificial intelligence to transform financial operations. Our algorithms are trained on vast datasets, enabling us to automate complex tasks and deliver precise results. By leveraging AI, Thriday empowers small businesses to streamline their financial processes and make informed decisions," stated Warren More, CTO of Thriday.
Tax time can be a daunting period for small business owners. The complexities of tax regulations, the meticulous record-keeping requirements, and the ever-changing landscape of tax laws make the process overwhelming and time-consuming. As a result, entrepreneurs often find themselves burdened with the responsibility of managing their taxes while juggling the day-to-day operations of their businesses.
From gathering financial documents, organising receipts, calculating deductions, and navigating complex tax codes, small business owners can spend countless hours grappling with tax-related tasks. This time spent on tax compliance takes away valuable resources that could otherwise be devoted to growing their businesses, serving customers, and pursuing innovation.
For many small business owners, tax season presents a maze of challenges. The intricacies of different tax forms, varying deadlines, and the need to stay updated with tax law changes can be overwhelming. Moreover, the fear of making mistakes or missing out on potential deductions adds to the pressure and stress associated with tax time.
"Tax time can be a significant burden for small business owners, diverting their attention from core operations and stifling growth opportunities. At Thriday, we understand these challenges and are committed to simplifying the tax process through AI-powered automation. We believe that small business owners should be able to focus on what they do best while leaving the complexities of tax management to our technology," emphasised Mr Nuciforo.
The repercussions of incorrect tax lodgment can be significant for small businesses. The intricacies of tax regulations, combined with the risk of human error, increase the likelihood of mistakes in tax reporting. Unfortunately, such errors can lead to financial penalties, legal complications, and unnecessary stress for business owners. Moreover, inaccurate reporting can trigger audits, which consume additional time, resources, and energy that could be better utilised for business growth.
"Accurate tax reporting is crucial for small businesses, ensuring compliance and preventing unnecessary financial penalties. Thriday's AI-driven technology is designed to eliminate the risk of errors and provide businesses with confidence in their tax filings. By automating the tax process and leveraging advanced algorithms, we are enabling small business owners to avoid the pitfalls associated with incorrect tax lodgment," affirmed Warren More, CTO of Thriday.
When it comes to automating taxes, Thriday stands out as a trailblazer in the industry. While several financial software providers offer solutions for tax and accounting, Thriday distinguishes itself by providing a comprehensive and intelligent platform that goes beyond traditional tax management.
Unlike other software providers, Thriday understands that tax lodgment is not just about filling out forms and submitting numbers. It involves a deep understanding of tax regulations, dynamic calculations, and the ability to navigate complex tax scenarios. Thriday's technology encompasses all these aspects, making it a one-stop solution for small businesses tax needs.
"When we started Thriday, people said the idea was too crazy to work! But through sheer persistence, we were able to pull it off. Our technology leverages AI to accurately handle tax calculations, identify potential savings, and ensure compliance with ever-changing tax regulations. We want small business owners to feel confident and empowered in managing their taxes," expressed Mr Nuciforo.
Thriday's innovative approach to AI-powered financial automation has fueled its rapid growth, positioning the company as a formidable contender in the market. With its commitment to empowering small businesses and revolutionising financial management, Thriday is challenging established incumbents like Xero and MYOB.
Since its founding, Thriday has experienced remarkable growth, capturing the attention of small business owners and industry experts alike. The company's dedication to providing intuitive, AI-driven solutions has resonated with businesses seeking efficient and accurate financial management tools. Thriday's user base has expanded rapidly, with an increasing number of satisfied customers joining the ranks.
"We are proud of the strides Thriday has made in a relatively short span of time. Our growth trajectory is a testament to the value we bring to small businesses through AI-driven financial automation. Thriday is challenging traditional players in the industry, and we are excited to be at the forefront of this transformation. We believe our commitment to empowering small businesses will continue to drive our success," stated Mr Nuciforo.
Thriday understands the challenges faced by small business owners during tax time. The time-consuming nature of tax-related tasks, the risk of errors, and the burden of compliance can hinder growth and consume valuable resources. However, Thriday's AI-powered automation provides a comprehensive solution, enabling entrepreneurs to navigate the complexities of tax regulations effortlessly.
The impact of incorrect tax lodgment can be severe, leading to penalties, legal complications, and wasted time. Thriday's technology eliminates the risk of errors, helping small businesses achieve accurate tax reporting and compliance. By automating tax processes, Thriday ensures peace of mind for business owners and minimises the burden associated with tax time.
Thriday's rapid growth and market presence have positioned it as a formidable contender, challenging established incumbents like Xero and MYOB. Its commitment to innovation, AI-driven solutions, and dedication to empowering small businesses have earned Thriday the trust and loyalty of its expanding user base.