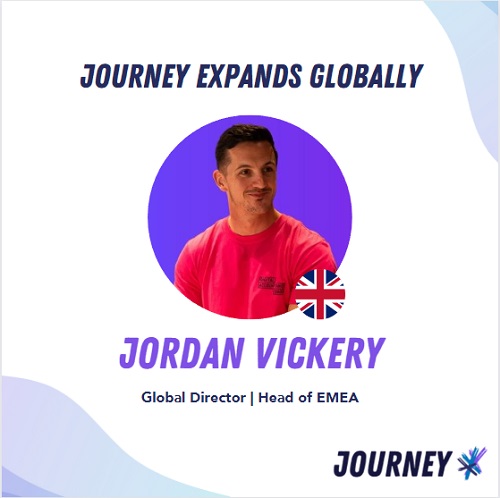 Journey announces global expansion, appointing Jordan Vickery as Director & Head of EMEA
Journey, a successful Software-as-a-Service consulting agency for accounting-tech that started in Sydney, has announced its first step in global expansion with the appointment of Jordan Vickery. Vickery steps into a new role as Global Director, taking charge of the Europe, Middle East, and Africa (EMEA) Region.
Launched in January 2023, Journey has seen impressive growth due to strong demand from the accounting tech sector. With this global expansion into the UK, Vickery is set to lead the growth and ensure great results for our clients in the region.
As part of this new global expansion, Vickery is joined by a supporting team in the UK who will work specifically with UK & EMEA SaaS vendors looking to scale and grow their business in the accounting tech ecosystem such as the Xero marketplace.
Trent McLaren, Founder of Journey, is extremely enthusiastic about Vickery's appointment. "I'm incredibly excited to have Jordan join our team and to be opening our doors to the UK/EMEA market," he said. "Jordan and I have worked together on some of the biggest campaigns in the accounting industry – globally, from national roadshows with ACCA to online virtual summits attended by over 18,000 people. We have a great track record of success together. There's no one I trust more to help on our next stage of growth."
With Vickery's vast experience and in-depth understanding of the accounting-tech landscape, he is expected to build strong partnerships, create new business opportunities, and drive growth for clients across the EMEA region.
Vickery joins Journey whilst retaining a role in the Digital Accountancy Show team and a strategic position in his previous agency, Troika – where he works with fast-growth accounting firms on their marketing strategy. This new role allows him to support accounting firms and tech vendors with growth on both sides of the fence
Everyone at Journey is eager to see what Vickery will bring to the table. This appointment is a key step in Journey's growth and reflects our commitment to offer excellent service to clients worldwide. Journey expects to open more doors to new markets later in the year.