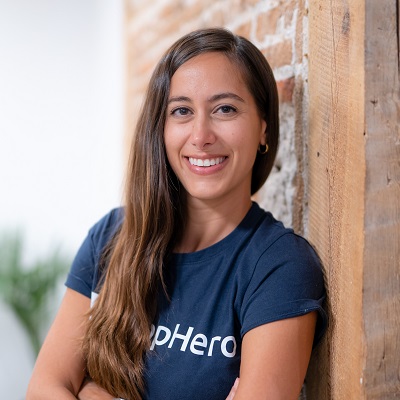 PropHero appoints Sophie Hayek to the new role of CEO Australia as the award-winning proptech launches new features and accelerates global expansion
Sydney and Madrid-based digital property investment platform PropHero has appointed Sophie Hayek (pictured) to the newly created role of CEO Australia as the award-winning proptech continues to grow strongly in Australia and accelerates global expansion, delivering property investors a simple, transparent, feature-rich and rewarding digital experience.
Hayek is an experienced business leader who joined PropHero as Global Chief Operating Officer in September 2022. Her appointment reflects the rapid growth of the PropHero platform in Australia and the company's strategic ambitions to expand overseas.
"Australians love property and I'm committed to offering a better way to invest in residential real estate benefiting from PropHero's next-gen approach. Our digital platform delivers data-driven insights and personalised recommendations straight into the palm of your hand plus you also get to work with a personal property coach," said Sophie Hayek, CEO PropHero Australia.
"Moreover, it's proven to work! In 2022, the Australian residential property market fell by about 4%, however, PropHero's clients enjoyed capital gains of some 13%. Our clients don't hesitate to refer their friends and family and they also return to buy more than one property with us and build a portfolio. That's the greatest recommendation they can provide us," continued Hayek.
With Hayek now running the business in Australia, the company's Co-Founders, Mickael Roger and Pablo Gil Brusola, will focus on global expansion opportunities. The company is already operational in Spain and is exploring opportunities to expand in Europe, South America and Asia-Pacific.
"After only 20 months of operations, we've proven that our digital-led approach, driven by big data and AI insights, can transform the way Australian and international investors find, buy and manage properties that outperform the market," said Mickael Roger, PropHero's Co-Founder and Co-CEO. "More than half of our revenue now originates outside Australia and on average we are transacting a property a day," continued Roger.
"We are incredibly proud to have recruited Sophie to join us at PropHero, first as Global COO and now as CEO Australia. We have big ambitions for PropHero Australia and we have every confidence that Sophie will deliver a strong growth trajectory," said Pablo Gil Brusola, PropHero's Co-Founder and Co-CEO.
Speaking about what she is most looking forward to in her new role, Hayek commented, "We are going to continue to build our partnerships with mortgage brokers and financial advisors and deliver amazing technology where investors can access all their investment related services in one place.
"Excitingly, we've just launched our Track app which enables our clients to connect their property portfolio, including any property they own anywhere in the world, and understand its cash flows, valuation and portfolio performance, with personalised recommendations for wealth accumulation. There's nothing else like it," said Hayek.
PropHero has grown rapidly since it was incorporated in June 2021. Pushing hard to secure clients, to build out the technology and the team, as well as raising $1.6 million in pre-seed and $8 million in seed capital, PropHero now has 45 employees and contractors based in Australia, Spain, Argentina, India and Indonesia. Overall, 18 team members are female, which represents 40%.
With a strong commitment to diversity & inclusion, building a positive culture and creating a great place to work, recently, PropHero made its Employee Share Ownership Plan available to all employees.