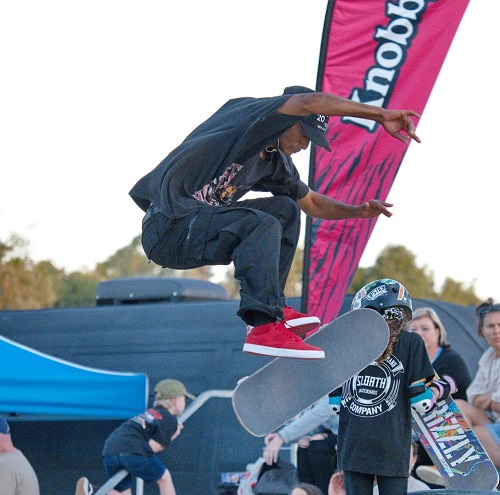 Nine25 partners with BMD Rumble to get skateboarders ramping up to financial independence
Australian skateboarding is getting some much-needed support, with Australia's fastest-growing money app Nine25 teaming up with BMD Rumble to enable skateboarders to better manage their money and get onto the path of building long-term wealth from an early age.
"This is a great opportunity to work with Australia's premier skateboarding organisation not just to support skater community development but also an Olympic sport that's rapidly increasing in popularity. We want to support everyday skaters and tomorrow's Olympians with the financial skills needed for a long career on and off the ramp," says Leigh Dunsford, founder of Nine25.
"We all know how important financial literacy is for young people and we all know that this is a skill that should be taught in schools but isn't," says Donny Fraser of the Rumble, "Hopefully this partnership highlights the importance of both financial literacy and sport for young Australians."
While there are close to 1 million skateboarders across the country, only a small fraction of them are able to compete professionally. "There's an incredible amount of financial stress on these athletes," says Fraser, "Not only do they have to hone their talent in order to compete at a global stage but they also have to source funding themselves to get to the global stage – we're taking flights, accommodation, event registration fees – and that's over and above the cost it takes to train at an elite athlete level. We're hoping this partnership will also highlight how important it is for aspiring athletes to manage their finances from day dot."
"Global research shows that people between 18 to 26 years are not just investing at a higher rate but are also starting off earlier than older generations," says Dunsford, "The Nine25 App is a multi-product financial ecosystem onboarding thousands of customers each week to send, spend, save and invest. We're excited to enable Australia's skateboarding community to manage money better."
The partnership kicks off at BMD Eastern Rumble in Redbank, Queensland later this month with Nine25 sponsoring on-ground and livestream giveaways.
The BMD Rumble Series is a national skateboard tour being developed as a legacy series to ensure the future generation of skateboarders have elite competition across Australia and the Pacific. The National Circuit currently covers Western Australia, South Australia, South East Queensland and North Queensland.
Nine25 is Australia's fastest growing money app. We've transformed from a single product with a single purpose to a dynamic multi-product ecosystem, to provide a cohesive way to send, spend, save, invest and borrow for thousands of customers joining each week. We aspire to do money better and with the help of our customers we're making money more relatable and instantly available. The Nine25 Virtual Account and banking/payment arrangement services are provided by Zai Australia Pty Ltd, supported by banking partner Cuscal Limited and Standard Chartered Bank's international banking services. Its Card services are supported by EML Payments for the Mastercard program. Nine25 Invest, its wealth-building service includes partners like Cache for thematic portfolio micro-investing.