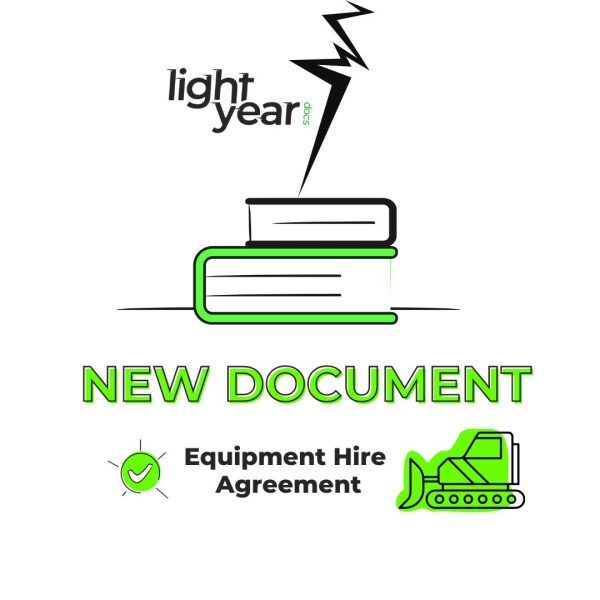 LightYear Docs launches Equipment Hire Agreement for flexible and certain hiring
LightYear Docs, the leading provider of legal documents for accountants, businesses, financial planners, mortgage brokers, and lawyers, has announced the launch of its new daily or monthly Equipment Hire Agreement. This exclusive document is available for purchase for $129 and is included in Strategist subscriptions. 
The Equipment Hire Agreement is designed to be used by one party, such as an individual, partnership, trust, company or SMSF to hire to another party with flexible options and legal certainty. It includes all the necessary clauses to protect both the hiring party and the Equipment Hirer, ensuring that the terms of the agreement are clear and legally binding. It works for all types of equipment including motor vehicles, earthmoving equipment, trucks, office equipment, catering tools and equipment and IT equipment. 
The LightYear Docs platform is easy to use and offers over 240 documents, all backed by Abbott & Mourly Lawyers. This means that users can be confident that the documents they create are legally sound and compliant with the latest laws and regulations. Ashleigh Jaremyn, Head of Operations, Product and Development said, "We have another 9 new documents being released over the next 3 weeks and our brand new integration with BGL CAS 360 to be launched this week".
"We are excited to launch this new Equipment Hire Agreement, which will provide our users with even more flexibility and certainty when hiring," said Michael Jeffriess, CEO of LightYear Group. "Our platform is designed to make it easy for businesses and individuals to create legal documents, and this new Equipment Hire Agreement is just one more example of how we are helping our users to protect their interests." 
The Equipment Hire Agreement is available for immediate purchase on the LightYear Docs website.