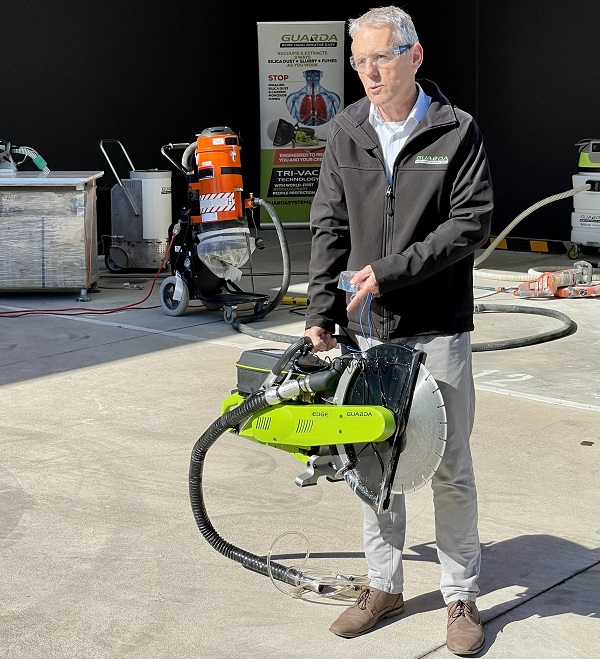 Guarda Systems celebrates successful live demonstration of cutting-edge dust suppression technology
Environmental health and safety technology business Guarda Systems have announced the successful live demonstration of its state-of-the-art products for the building and construction industry. The event, held on Wednesday 16 August 2023, showcased the exceptional capabilities and advanced features of Guarda's unique water and vacuum dust suppression system on a variety of masonry cutting tools, including a stone benchtop saw. The demonstration left attendees impressed and excited about the future of engineering controls for masonry cutting.
Guarda aims to protect workers from the dangers of silica dust and carbon monoxide through an innovative range of masonry-cutting products, empowering them to 'work hard, breathe easy'. The company develops and manufactures masonry cutting saws that provide the world's best silica dust, slurry, and fume control.
The demonstration took place amidst significant media interest in workers' exposure to silica dust which continues to rise, with recent stories focusing on large fines for QLD and NSW businesses in contravention of the silica regulations, the imminent launch of a respiratory disease register in Australia and alarmingly high numbers of silicosis cases amongst stone benchtop workers. With the growing awareness of silicosis and other occupational respiratory diseases, regulatory activity in this area has increased and the industry is aware there is still work to do to address this serious issue. Guarda Systems believes engineering controls are a big part of the solution.
Guarda's lead product, the Guarda Edge Powercutter, is a revolutionary concrete cutting saw, featuring patented 'Tri-Vac Technology' which provides a competitive edge over other engineering controls. This unique technology utilises water and vacuum, working together to remove silica dust, slurry, and fumes, reducing exposure to saw operators and others nearby. Tri-Vac dust suppression has been independently verified to reduce workers' exposure to silica dust and other harmful byproducts by up to 99% compared to existing engineering controls.
Rather than using existing dust suppression technologies that haven't been improved upon for many years, Guarda is the only company to have developed a new and more effective way of removing silica dust and other harmful by-products during masonry cutting. By innovating in this area, and improving on existing methods, Guarda can control a lot more of the respirable dust at the source before it gets into the air. Using best practice engineering controls, coupled with other interventions, this hazard can be dramatically reduced, lives can be saved and productivity enhanced.
The live demonstration took place at the Melbourne offices of concrete construction equipment supplier Allcon Group, where Guarda Systems' team of experts presented a comprehensive overview of their groundbreaking products. The event attracted a diverse audience, including industry professionals, regulatory experts and potential customers, all eager to witness the cutting-edge technology in action.
During the event, Guarda Systems showcased its flagship product, the Guarda Edge Powercutter, demonstrating its unique water and vacuum-driven suppression system which provides dust, fume, and slurry control all on one device. The company demonstrated the usability, practicality and adaptability of the system in a number of different cutting applications, including engineered stone bench top and concrete. The Guarda Edge Powercutter impressed attendees with its ability to almost completely suppress airborne respirable silica dust, enhancing the safety of the work environment.
In addition to the Edge Powercutter, Guarda also showcased its range of complementary vacuum systems. These products seamlessly integrate with the Edge Powercutter and other Guarda saws, forming a comprehensive product ecosystem that offers a multi-layered approach to preventing health issues.
Guarda Systems CEO, Craig Penty (pictured), said, "We are thrilled with the overwhelming positive response to our live demonstration. The event provided an excellent opportunity to showcase the effectiveness and cleanliness of our masonry cutting solutions.
"We are working towards delivering high quality and Australian assembled Guarda products into the market in sufficient quantities to make a tangible impact in the Australian market, to provide a springboard for global success and to bring about a world in which every worker who cuts concrete, stone or brick can do so without fear of dying from lung disease.
"We are confident that our products will revolutionise the construction and related industries and set new standards for safety and protection."
Guarda Systems' successful live demonstration marks a significant milestone in the company's mission to mitigate health risks in the building and construction industry. With a commitment to innovation and collaboration, Guarda Systems continues to push the boundaries of engineering control technology, ensuring a safer and healthier future for all.