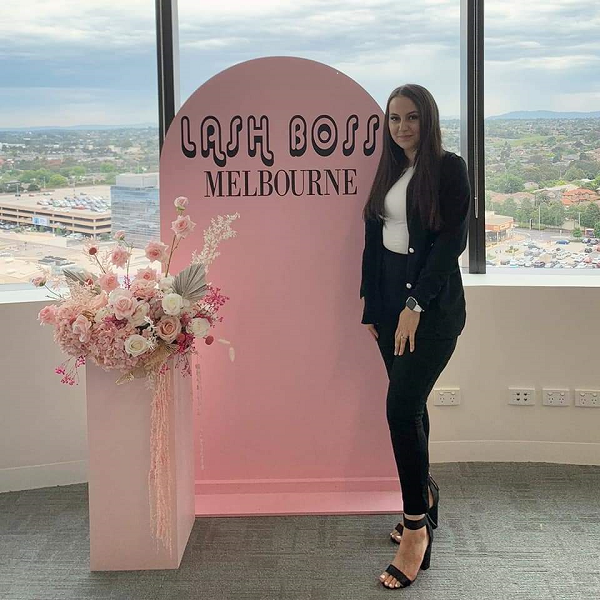 From home salon to global empire: Young Aussie mum Ayla Akyol builds multi-million dollar beauty enterprise
With a degree in landscape architecture design and a background in influencer marketing, a career change into the lash extension industry was not something Ayla Akyol saw as on the cards for her. Yet, after starting up her own lash extensions small business in her home, she is now the Founder and Director of Lash Boss Melbourne, a seven-figure booming business that began in Melbourne but soon expanded to cover New Zealand, Canada and the USA.
"Lash Boss Melbourne is one of Australia's fastest-growing eyelash extension academies for onsite training and at-home online courses. At our lash academy and lash supply business, we offer more than just exceptional training programs that are nationally recognised. Still, we also provide unwavering support and business mentorship to our students throughout their journey, from day one of training to long after they've completed our courses," Akyol explained.
"The lash industry is actually one of the most profitable for beauty businesses. Lash products are relatively inexpensive to buy. It is the time or services that add value and this is where the benefits lie for lash business owners. The more hours they undertake, the more money they make.
"Everyone wants beautiful lashes and so there will continue to be a growing need for lash businesses. This is why our lash extension courses are so popular; within a short period of time, our students can undertake and complete their courses and then set up their own businesses.
"Operating from home makes the whole process affordable for lash extension business owners. All you need is a bed and lash products."
Starting small from home
"I started off as an eyelash extension technician from a home salon. I quickly saw the potential for growth in the sector. Through word of mouth and social media marketing, I soon found myself booked out for weeks at a time," Akyol said.
"After the birth of my son, I wanted to develop the business further, so I turned towards providing eyelash extension supplies and the training of other lash technicians. An eyelash extension business is one of the most rewarding and flexible at-home businesses you could ever dream of owning.
"Besides all this, I just love the flexibility of being able to spend time with my two boys and it gives me the satisfaction of working and owning my own business and being my own boss!"
Fashion capital Chadstone: the perfect base for the Lash Boss academy
"Lash Boss Melbourne is located in the heart of Chadstone, Melbourne's fashion capital. It's the perfect location for our academy where we provide nationally-recognised lash training courses. In the past three years, we've had over 3,000 people successfully graduate," Akyol said.
"I'm proud to say that our eyelash extension training and lash lift courses are so successful because of their easy-to-understand, step-by-step format.
"Our commitment to our students' success doesn't stop at certification, it's a continuous partnership. Students count on us for ongoing guidance, the latest industry trends, and access to top-notch lash supplies. Students can experience the difference of a dedicated support system that ensures they're always on the cutting edge of the lash industry."
Study to be a lash technician at home, any time, anywhere in the world
"We did exceptionally well during the COVID lockdown, when we pivoted and adapted our course to comply with the restrictions, and have had great success ever since. We currently have thousands of students enrolled in our online course that was specifically developed as an at-home package for those wanting to learn to be a lash technician from the comfort of their own home at a time that's convenient to them," Akyol said.
"Our online course covers video tutorials that go over the entire eyelash extension application process on both live modes and mannequin heads. You can access all this information 24/7 from any device, anywhere in the world. This comprehensive curriculum covers everything from the fundamentals right through to advanced techniques."