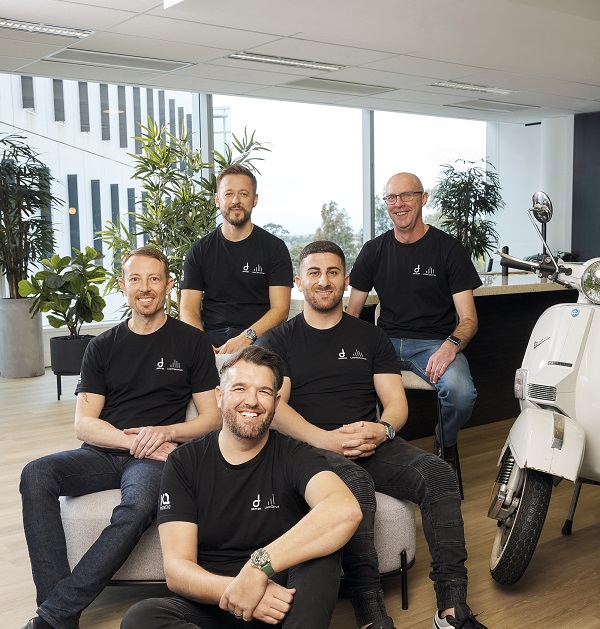 Drive IQ Technology appoints Andrew Moulds to Chief Operating Officer during period of high growth
Digital finance solutions company, Drive IQ Technology, has secured Andrew Moulds (pictured, far right) into the strategic leadership team as Chief Operating Officer.
The driving force behind Lend's commercial asset finance platform and a key contributor to the "Insights" education series, the appointment of Moulds is a critical part of the group's growth plans as the fintech gears up to expand its operation across multiple intermediary channels.
Speaking of Andrew Mould's appointment and inclusion to the fintech's strategic leadership team, the Chief Executive Officer of Drive IQ Technology, Simon Penhaligon, commented, "The creation of this new role positions our business to scale and execute on our growth plans. Andrew's extensive experience across the multiple channels that our Group serves, coupled with his commercial acumen and history of growing businesses marks an exciting time for the group."
Moulds has over 25 years of experience in the asset finance sector, having held various roles, including Head of Asset at Lend, the Chief Operating Officer at asset finance brokerage Amfin (Approved Motor Finance Co), and group financial services manager at multi-franchise automotive group Alto Group.
"Having worked with Simon and the team in previous roles, I'm thrilled to be joining the group at such an exciting time of their journey. I have always been passionate about the application of technology to finance and Drive IQ Technology has an exceptional suite of end-to-end product solutions. Their development roadmap is impressive and the capacity to test and learn is a great enabler. I'm looking forward to contributing to their growth," said Andrew Moulds.
Drive IQ Technology was established in 2020 and has quickly grown to be a serious player in the automotive digital finance solutions space. With products extensively adopted by dealerships, asset brokerages and aggregators.
Drive IQ, the eponymous asset finance management software is now integrated with 100+ lenders and is supported by an intuitive workflow, making it the broadest asset finance marketplace in Australia. Providing its 9,000+ users the ability to qualify, approve, settle, manage and report on more finance deals, with the full protection of NCCP compliance.
The Drive IQ system's inbuilt credit decisioning engine instantly evaluates customer application data against products from all lenders to present suitable options; drawing on over 40 independent data points to validate each application. Key matching points include personal identity information, applicant business and financial data, credit bureau data, vehicle data and lender eligibility criteria.
Vroom™ was launched in June 2022 by Drive IQ Technology: a direct-to-lender digital finance journey product. Offering the largest ever generation of digital native Australians a brand new way to match and apply for asset finance, at the point-of-sale.
Vroom's intuitive self-serve customer experience can be completed in minutes, with one time passcode sign-up allowing multi-device application access, smart matching engine for the most suitable lender, machine learning algorithm geared towards success, and standout industry firsts: instant approvals using multiple verification APIs and genuine direct-to-lender connection, making it quicker than ever before.
The Vroom product is also presented in a mobile phone shaped experience perfectly suited to online shopping behaviours, while delivering simpler website integrations. And powered by the full functionality of Drive IQ.
LODGE, also added in 2022 to further support Drive IQ Technology's product stack, is an always-on and infinitely scalable human API asset finance brokerage, delivering full-service brokerage support, 7 days a week.
Covering all new and used assets of any age and type, with extensive experience and a solution-focussed approach. Whether it's converting a fresh lead or simply arranging the lender submission, LODGE gives dealers, brokers and referrers the chance to centralise non-core business activity and overflow, while they focus on growing their revenues.