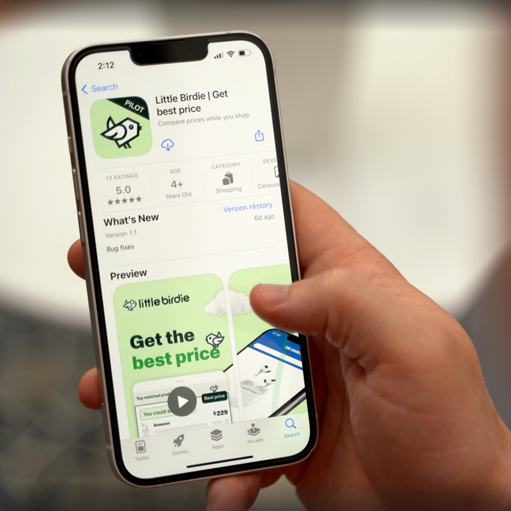 Disruptive new tech from Little Birdie launches to save shoppers hundreds each year in a new era for e-commerce
Australians will be able to instantly access the lowest price available for millions of products online from today, with the launch of a new AI-powered innovation from Little Birdie. Against a backdrop of inflation and rising cost of living, shoppers can now instantly see an unbiased, transparent list of prices from thousands of online retailers as they shop — completely reshaping the e-commerce experience as we know it today.
Little Birdie is led by Jon Beros, formerly of Australia's most popular deals site, Catch Group, and includes CommBank as an investor. Unlike other price comparison tools, the Little Birdie browser extension plugs seamlessly into Safari (iPhone) or Chrome (desktop) and searches for the internet's best prices across all e-commerce categories including fashion, beauty, electronics, toys and many more.
Once it's installed you shop like normal and when you're on a store's product page, Little Birdie will show all the prices it can find you from other retailers, without you ever having to leave that store. For example, someone looking for Apple AirPods on Amazon will now also see the price that other retailers like The Good Guys, My Deal and Bing Lee are selling them for right there on the Amazon page, alongside their price.
The real retail game-changer is that unlike trawling on Google, where particular retailers are prioritised in the search based on how much they spend on advertising, shoppers will also see the best prices from smaller retailers across the country, leveling the e-commerce playing field. Little Birdie offers shoppers total transparency – it is completely unbiased, showing the prices found in order of lowest price.
Little Birdie Founder and CEO Jon Beros said, "Aussies spent nearly $64 billion online in the last year alone. Yet the average shopper might not know how often retailers are changing pricing which makes you think you're getting a good deal — when you're really not.. From decades of working in e-commerce and fighting to find consumers the best price, we know that this lack of transparency is the biggest barrier.
"Little Birdie's mission is to bring transparency to online retail and to save people their hard-earned money every time they buy online, just by making sure they get the best price out there.
"We're using new technology to innovate one of the last corners of the internet that is in desperate need of an aggregator that is on the side of the shopper—unlike Google, which prioritises advertising. We're putting powerful AI search tools at their fingertips and it's really an exciting step forward for e-commerce."
Cost of living support
Recent research found 93% of Australians are concerned about rising costs, and further research indicates 50% of shoppers are deferring purchases until sales periods or special deals.
"Using Little Birdie when shopping online can save the average household many hundreds, possibly thousands of dollars every year. At a time when the price of everything is rising, installing Little Birdie will not only keep money in your bank, but being able to see what everyone is charging will also give you the confidence you aren't overpaying or missing a great deal," said Beros.
Little Birdie also helps shoppers track price movement over time. An easy-to-read graph shows price history, so they can understand the impact of seasonality and sales periods, and know the best time to buy if they're not in a rush. Plus, a one click Price Alert function notifies shoppers of price drops in real time on their watched products.
"Little Birdie's technology gives shoppers a birds-eye view on how retailers are pricing their products, so they have visibility on the market. Ultimately this will be good for shoppers, and good for retailers looking for new customers," said Beros. 
Always-improving AI
Little Birdie aims to transform online shopping in Australia and soon, around the world. Powered by innovative AI, the browser extension searches and tracks the prices of millions of products online and as usage grows, that number will get infinitely larger.
"In the same way that generative AI tools like ChatGPT have become more powerful the more they are used, the more shoppers using Little Birdie, the smarter it gets at finding the best prices.
"From today, Little Birdie will deliver substantial savings across thousands of the best known stores including Amazon, The Iconic, Big W, Myer, Rebel, Adore Beauty and eBay," said Beros.
Little Birdie is free to use, easy to install and available on iPhone (Safari), Chrome (desktop).
"We all know the feeling of shopping with too many tabs open trying to find the best deal. With Little Birdie, avoid the tab-alanche, and get all the thrill, without the trawl," Beros ended.