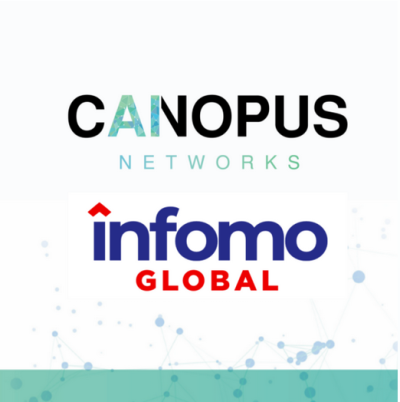 Canopus Networks announces partnership with ad-tech pioneer Infomo Global
Canopus Networks (Sydney), announced today a partnership with Infomo Global (Singapore), to jointly provide telcos all over the world an end-to-end, in-house advertising platform that is targeted and secure, with complete consumer privacy.
Infomo is an ad-tech pioneer, combining telco ID and data with powerful AI-based advertising optimization tools. Infomo provides turnkey in-housing advertising solutions for telcos, ad agencies, publishers, brands, and SMEs. Canopus is the global leader in AI-based network traffic analytics technology for mobile and fixed networks, with industry-leading levels of privacy, accuracy, capacity, scalability, and affordability.
The combined Infomo and Canopus offering will provide telcos comprehensive in-house capabilities for data capture, analysis, deployment, personalization, ad targeting and monetization within a secure, privacy-compliant environment.
Ananda Rao, Managing Director, and Group CEO, Infomo said, "Our combined vision is to offer telcos blockbuster commercial solutions. Canopus is the world leader in high-capacity capture of useful network data with full privacy protections. Infomo is the pioneer in advertising tools for telcos, ad agencies, publishers, brands, and SMEs. Our platforms powered by Canopus data will be the leading advertising platform in any market in which we launch."
Raghavendra Agarwala, Group CTO, Infomo stated, "We have designed a unique in-house offering that makes the telco-driven ecosystem far more attractive to media buyers and media sellers – the foundation being telco data which is sold on an impression basis. The partnership with Canopus will enable us to offer a complete data monetization solution including data collection and analysis."
Welcoming this partnership, Prof. Vijay Sivaraman, Co-Founder and CEO, Canopus Networks said, "Telco infrastructure carries the entire digital activity of the population, making it one of the richest sources of consumer data.  Canopus' data extraction platform coupled with Infomo's advertising platform will enable telcos globally to unlock the latent commercial value inherent in their infrastructure."
Himal Kumar, Co-Founder and CTO, Canopus Networks added, "Accuracy and granularity of data is the key when it comes to personalisation and segmentation for advertising businesses. Canopus is extracting the highest quality data from the network, which in partnership with Infomo provides telcos with unprecedented data monetisation opportunities."