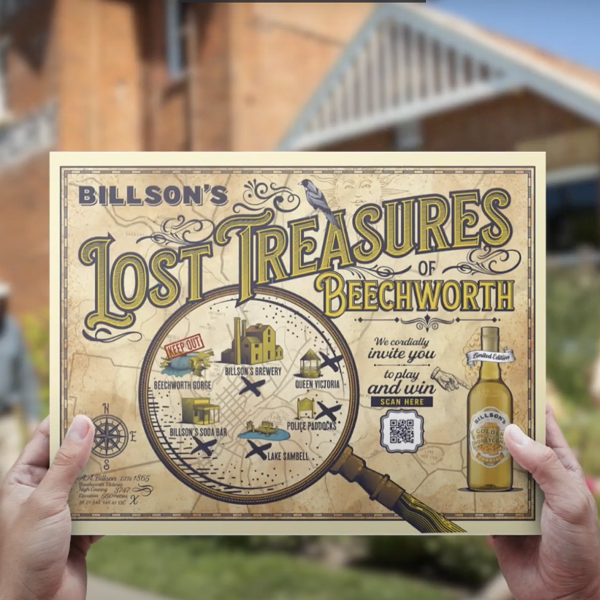 Billson's leads the way to better shopping experiences with AR
Billson's, one of Australia's oldest and most beloved beverage brands, is setting a new standard in the retail industry, are revolutionising the holiday shopping experience with augmented reality (AR) against a challenging economic landscape, where consumers are thinking twice about their spending.
Joining forces with XRii, a leading local marketing platform that specialises in immersive technology, Billson's introduced an innovative AR scavenger hunt for a unique holiday shopping experience that made locals and travellers alike want to visit its brewery and explore the town of Beechworth.
Over a short period of time, the results were impressive. Not only did in-store revenue spike over the holidays, with the brewery abuzz from all of the new foot traffic, but Billson's AR-powered scavenger hunt also achieved:
2,500+ app downloads
91% of downloads converted to sign-up
28% redemption rate
Ranked #42 on the Apple App Store
A closer look at the innovative solution
The AR scavenger hunt encouraged shoppers to explore historical sites around Beechworth and collect AR cordials. Once all of the AR cordials were collected, customers were rewarded with a free bottle of Billson's limited edition cordial flavour that they could redeem at the brewery.
Signage in local businesses, as well as promotion on Billson's highly engaged social media channels, spread the word about the activation and encouraged people to take part in the experience. Ideation was a collaborative process between Billson's and XRii, and the custom app was designed, developed and deployed by the XRii team.
Redefining consumer engagement with AR
Billson's Marketing Manager Molly Wescott said, "The entire XRii team was amazing from ideation through to the development of the app. The way we were able to utilise their technology to bring even more fun and connection to the brand was really special and helped us to better connect with our consumers."
"We were interested in working with XRii from the start, not really knowing about the technology. But the team at XRii made it really easy to understand and work with. Now, we're looking forward to rolling out even more unique experiences together on a national scale."
Matthew Endresz, Founder and CEO at XRii said, "We are thrilled to have partnered with Billson's in bringing this exciting AR-powered shopping experience to life. Our collaborative journey from ideation to execution has showcased the immense potential of immersive technology in redefining how consumers engage with brands."
"Billson's commitment to innovation and dedication to enhancing the shopping experience have been truly inspiring. We are proud to have played a role in making its vision a reality, and we look forward to expanding this success on a national scale, connecting even more consumers with the magic of AR."
Making significant strides in Australia
XRii has been making significant strides in the APAC market, empowering brands, premier events and sporting organisations like Perth Heat Baseball Club and Advertising Week to leverage cutting-edge, immersive technology like AR, geo-mapping and gamification to modernise their marketing strategies and deliver memorable experiences.
To find out more about Billson's XRii-powered AR scavenger hunt, click here.