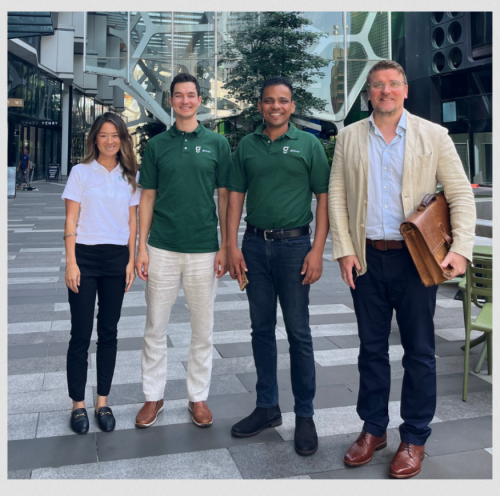 Australia Federal Government awards GetMee AI Accelerating Commercialisation grant
The Melbourne-based tech business GetMee has announced today that it has received significant funding from the Accelerating Commercialisation grant, awarded under the Australian Government's Department of Industry, Science, and Resources Entrepreneurs' Program. The three year old business is already backed by hundreds of investors including some well-known high net worths and Angels.
GetMee, an artificial intelligence (AI) coaching tool designed to help people with English as their second language develop communication skills, is set to revolutionise language learning and communication coaching worldwide.
GetMee is at the forefront of a new business category:
The company uses its patent pending proprietary AI models and processes in its products. The AI industry gaining traction rapidly due to tools such as ChatGPT coming to the market, is a watershed moment. These are unprecedented times in terms of AI advancement and adsorption of the technology. GetMee has an edge in the AI for education space as an early entrant to the market.
AI for English language and communication coaching. The platform's innovative approach has already secured multiple enterprise customers and 1,000's of individual learners on the platform. A sample of current education providers and enterprises using GetMee AI, include AMES Australia, Pacific Training Group, VFS Global, ECA Professional Year, Kubik Coaching Indonesia, YouStudy International College, English Priority and VicWise.
A Success Story of a Refugee Immigrant Paying It Forward.
As an Sri Lankan immigrant, Balendran Thavarajah (Bala), the CEO and Founder, faced initial challenges of learning how to communicate in English and fitting in with the culture to rebuild his life in Australia. "I had to fend for myself from a young age and didn't have any formal education," Bala said. Bala went on to receive a Bachelor of Computer Science degree from the Western Sydney University and a Master's degree in Information Technology from the University of Sydney. After becoming a Tech founder of multiple successful startups, like Bluedot and GetMee, Bala's mission is to help others improve their English and communication skills-ensuring everyone can thrive.
GetMee uses AI to give users feedback on energy, emotions, pronunciation, and vocabulary. Poor communication like unclear syllables, filler words, and tone are picked up on an individual basis. GetMee's AI technology processes language to analyse spoken communication and provide personalised feedback and coaching. The company's proprietary AI is powered by patent pending technology covering Australia, Europe and the US.
"The Government's recognition of our work at GetMee, will allow us to accelerate the progress of making effective language and communication skills development accessible to all," Bala said.
With this technology, GetMee is empowering individuals to become confident and effective communicators in today's globalised world. The funding will drive expansion and the next stage of GetMee's commercial growth into India, Bangladesh, Indonesia, the Philippines and South America.