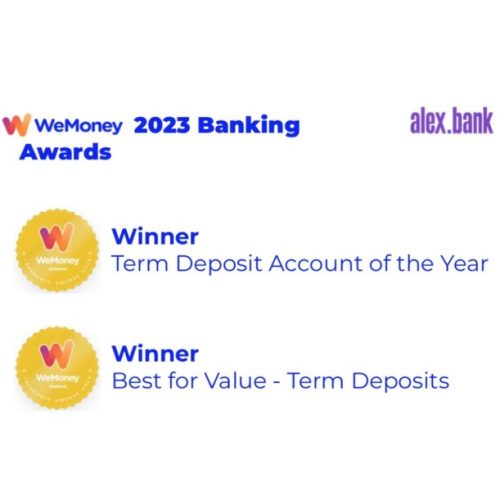 Alex Bank recognised as Term Deposit Account of the Year at the 2023 WeMoney Banking Awards
Alex Bank, one of Australia's newest digital banks, has been awarded Term Deposit Account of the Year and Best for Value Term Deposit at this year's 2023 We Money Banking Awards.
With the digital bank committed to providing simple, fast, fair and flexible financial products and services, its Term Deposit is designed to offer customers a secure and profitable investment option with the protection of the Australian Government's Financial Claims Scheme deposit guarantee up to $250,000.
In December 2022, Alex Bank was granted its Authorised Deposit-Taking Licence, allowing it to expand its product portfolio to Term Deposits; and in January 2023 it went to market with its Term Deposit Product.
Simon Beitz, CEO of Alex Bank said, "Having only launched our Term Deposit in January of this year, this recognition highlights the hard work and commitment of the Alex Bank team, who are dedicated to delivering a fair, fast, and simple customer experience ." He added, "I am proud of this product and firmly believe that we have introduced a robust offering to the market, with competitive rates and terms that will benefit our customers, protected by the Australian Government guarantee."
Since its product launch, Alex Bank has grown its deposit portfolio by over 300% and are match funding their lending growth.