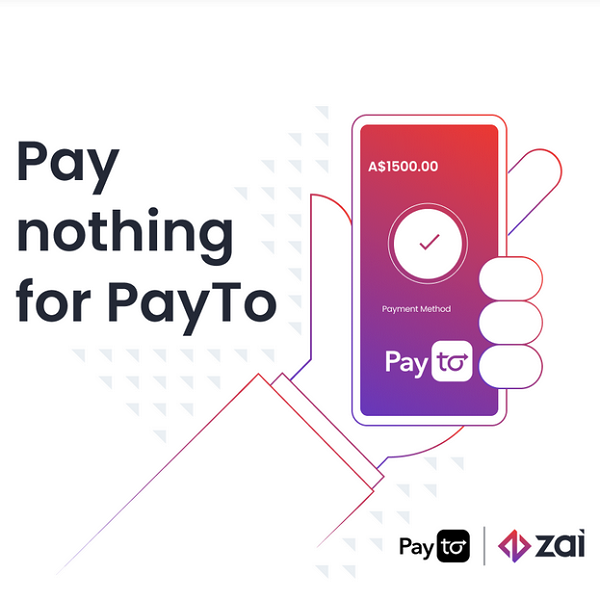 Zai waives PayTo fees, saving Australian businesses thousands of dollars
Zai, the global financial technology company delivering embedded orchestration solutions, have announced that – for a limited time – new and existing customers signing up to its PayTo solution will pay nothing for the first 12 months*. Zai is the first company in Australia to waive fees for creating PayTo agreements and initiating PayTo payment requests, for customers who sign up to PayTo, and businesses who take advantage of this offer are expected to save thousands of dollars.
PayTo is a new service delivered via Australia's New Payments Platform (NPP) allowing businesses to initiate requests for real-time payments from their customers' bank accounts. It is planned to launch across Australia on 30 June, 2022 and Zai is working closely with NPP to deliver a best-in-class solution to support it.
Paul Byrne, CEO of Zai said, "The launch of PayTo is nearly upon us, and should be a game-changer for how Australian businesses manage payments – inviting a wave of innovation from fintechs and financial institutions alike. However, there are concerns around a lack of information and incentive from traditional banks, which could lead to a slow uptake by businesses.
"This is why we are the first company in Australia to offer an incentive for PayTo, allowing new and existing customers to pay nothing for the first 12 months when they sign up.* We are calling on other financial institutions and companies to implement similar offers, to encourage as many companies as possible to sign up to PayTo on day one and ensure the success of this revolutionary new service."
PayTo ensures payments will be more efficient for businesses and their customers, and Zai will allow businesses to plug seamlessly into the PayTo service, providing their customers with a fast and convenient new way to manage their payments.
Zai has already signed new customers including PayCollective, to embed its PayTo solution. Dubbed Australia's first SuperApp, PayCollective gives users the simple convenience to access multiple services from top brands across different apps in one place – while enjoying exclusive discounts and rewards.
Robin Hao, CEO and Co-Founder of PayCollective commented, "PayCollective is excited to partner with Zai and implement its PayTo solution so we can offer our members and partners the latest in seamless real time payments. PayCollective's innovative, community-focused marketplace app is the first of its kind in Australia, so we are delighted to provide an even more enhanced experience when PayTo goes live in the coming weeks."
---
*Companies availing of this offer will need to have PayTo integrated by 1 December, 2022.