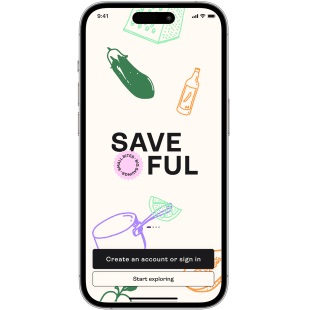 Saveful launches, empowering Aussies to save money, save time & reduce food waste
Australian households now have the power at their fingertips to save on their grocery bills and put more food on the table – thanks to the new and free app Saveful.
Launched today by Social enterprise Thankful and their Ambassador, chef and farmer Matt Moran– Saveful is an intuitive and practical platform empowering Australians to save money, save time and reduce food waste.
Saveful launches as 80% of Australians say they are feeling the pinch of rising living costs and are looking for ways to save but are throwing away 1-in-5 bags of groceries they purchase.
The app empowers households to put this food on the table by reversing the recipe rule book and enablesthem to make thousands of different dishes with what's already on hand in the kitchen.
Saving households between $2,000-$3,000 each year, Saveful users simply 'swipe right' on tailor-made recipes to make the most of what is on hand based on their specific budget, taste, cooking skills and dietary requirements.
Saveful delivers a personalised-user experience and flexible meal frameworks to users for free based on an individual household's needs, as well as the ability to build sustainable home cooking habits simply and conveniently.
Whether it's using those items quickly approaching their used by dates, giving last night's leftovers a makeover or simply serving up a delicious dish when the kids ask 'what's for dinner tonight?' – Saveful enables Australians to serve up a meal with what they already have, puts to good use those often-forgotten items in the cupboard or fridge and prevents endless trips to the supermarket.
Busy families will also be able to get the most out of their food with access to chef hacks, tips and tricks  – guiding them along the food journey from planning meals, shopping for food, storing items to preparing meals and usage.  Users are also motivated and have visibility of the impact of their actions by tracking food and money saved.
Saveful is accessible for every Australian on Apple and Android devices thanks to the support of a range of producers, retailers and Governments including: Bega Group, Birds Eye, Goodman Fielder, Nestle, Qantas, Rabobank and the Queensland Government.
Commenting on the launch, Saveful CEO Kim McDonnell said, "We are thrilled to be launching Saveful and offering it to Australian households for free."
"As many are feeling the pinch of rising living costs and looking for practical ways to reduce food waste – Saveful will deliver households with the practical tools and convenient solutions they crave.
"From giving those brown avocados sitting on the bench a second life or giving last night's leftovers a maker, Saveful will not only divert eatable food away from the waste bin – it will also make the tastebuds and wallets of households sing."
"Collective action is so critical to achieving our country's goal of halving food waste by 2030. We are delighted to have the support and backing from a powerful group of brands, producers, retailers, and governments to deliver this positive tool to all Australians. Meaningful support that will enable simple and impactful actions at home that will have a tangible impact on our wallets and our planet."
Saveful Ambassador, celebrity chef and farmer Matt Moran, added, "I am delighted to be launching Saveful with the Thankful team. Eating fresh, seasonal produce is better for us and our planet. A highly intuitive and motivating app, Saveful will reward and help households understand what is in season and ultimately make reducing waste easy, empowering, and fun for the whole family."
"It's all about unleashing our food's full potential, empowering Aussies to do more with less conveniently and helping households reduce food waste by taking something off the plate of busy families – not adding to it."
From early next year, completing challenges in the Saveful app will count towards Qantas Frequent Flyer's membership status, which rewards members for making sustainable choices.  Thankful worked with venture-studio Shadowboxer to develop Saveful.