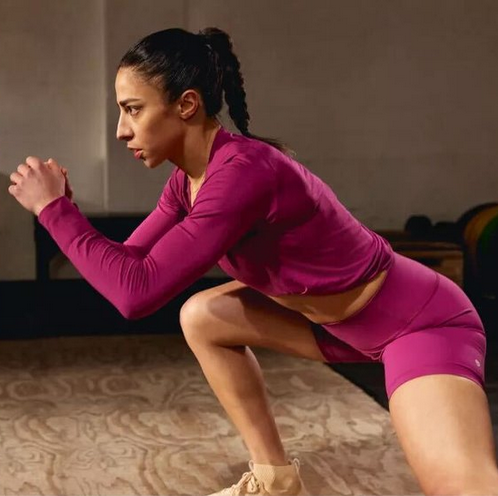 Samsara Eco partners with lululemon to tackle textile recycling
Australian enviro-tech startup Samsara Eco has today announced a partnership with athletic apparel brand lululemon. This multi-year collaboration will scale circularity through textile-to-textile recycling, and see Samsara Eco create the world's first infinitely recycled nylon 6,6 and polyester. Together, the two companies will create new recycled nylon and polyester made from apparel waste, bringing to life lower-impact alternatives to important materials in the performance apparel industry.
Nylon and polyester make up roughly 60% of clothing produced today. Globally, around 87% of discarded textiles either end up in landfill, incinerated or leak into the environment, until now, there's been no method of recycling it.
Samsara Eco's innovation is an important milestone in tackling plastic pollution and carbon emissions caused by textiles, helping reduce the world's reliance on fossil fuels and addressing the climate crisis. It means Samsara Eco can now break down mixed apparel derived from plastic to its core molecules, which can then be used to recreate brand-new apparel again and again.
"We're proud that this partnership is disrupting the apparel industry. The ability to infinitely recycle textiles, including nylon, is an essential solution to tackle the enormous challenge of textile waste in the apparel industry. Together with Lululemon, Samara Eco is creating enzymatically recycled nylon and accelerating textile-to-textile recycling toward truly circular apparel. This is a massive milestone as Samsara Eco achieves an environmentally friendly ability to recycle blended textiles including nylon and polyester," explained Paul Riley, CEO and Founder of Samsara Eco.
"Nylon remains our biggest opportunity to achieve our 2030 sustainable product goals. This partnership demonstrates what's possible through collective innovation to solve unmet needs. Through Samsara Eco's patented enzymatic process, we're advancing transforming apparel waste into high quality nylon and polyester, which will help us live into our end-to-end vision of circularity," said Yogendra Dandapure, Vice President, Raw Materials Innovation at lululemon.
This represents lululemon's first-ever minority investment in a recycling company, and Samsara Eco's first partnership within the apparel industry. Following its $56M Series A funding round last year, the partnership and investment from lululemon comes as Samsara Eco gears up for commercialisation to bring the potential of infinite recycling to the fashion industry. It is a key milestone for Samsara Eco's roadmap to recycle 1.5 million tonnes of plastic annually by 2030.