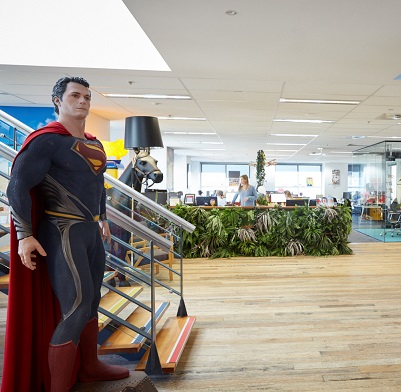 Professional advisory firm BlueRock opens TechHub in Melbourne, creating co-working opportunities for local startups and entrepreneurs
Professional Advisory Firm BlueRock has opened a tech-centric co-working space dubbed the 'BlueRock TechHub' in Melbourne CBD. The new workspace aims to strengthen connections within the city's tech community and provide a place for local entrepreneurs to support each other.
The TechHub is currently home to BlueRock's Digital business, global team and investment business Everything Is Awesome. The company is welcoming tech-centric co-tenants to operate from the TechHub to foster BlueRock's technology-first approach, and to add value to the entrepreneurial community.
Simon Brosolo, CEO of BlueRock TechHub and Managing Director of BlueRock Digital said, "We're excited to be opening the doors of our TechHub to local start-ups and budding entrepreneurs. We want to provide a space for like-minded businesses to share their knowledge and experience, learn from each other, while providing the chance to network and collaborate. The TechHub also provides opportunities for the BlueRock community to offer guidance to founders on their business adventure."
Currently, BlueRock has proptech and fintech start-ups working from the TechHub office including Sensum, Prime, Propella and Brauz and looks forward to welcoming more.
As part of the BlueRock co-tenancy, tenants will have access to several services that will enable them to work in creative and collaborative space. This includes office, meeting, and conference rooms, as well as reception and general office support from the TechHub's office manager. Tenants will also have access to their newly created commercial-grade content studio and wellness room.
The TechHub office gives tenants the opportunity to participate in community events such as wellness classes, morning tea, Friday drinks and education sessions that cover customer experience, digital and business and financial advisory.
BlueRock is a multidisciplinary, entrepreneurial advisory firm offering tech-enabled professional services for growing businesses and individuals, including accounting, law, private wealth, finance, digital and more. Since launching in 2008, BlueRock has seen rapid success, growing from a team of 8 to now employing over 350 staff members across multiple sites and states.