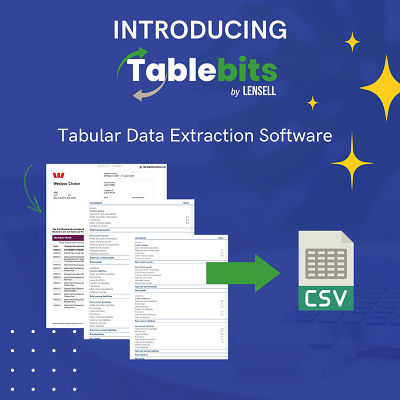 LENSELL launches TableBits, a tabular data extraction software
Australian FinTech member LENSELL announce the launch of their newest application, TableBits – a tabular data extraction application, that is fast and easy to use by anyone who needs to get tabular data out from PDF documents and straight into CSV for further analysis and processing.
Why TableBits?
Currently, Australian companies still report their financial and non-financial performance results in PDF format. Company reports are usually long PDF documents (the average length is around 140 pages) which makes it difficult and tedious for investors, analysts, and other interested parties to find the data they need, extract it, and rekey it into the analytical model or application of their choice.
It takes around 3-4 hours for an experienced financial professional to extract all data from all four main financial statements that listed and public companies need to report on regularly. Not only isn't this scalable but it is also error prone and, most of all, extremely ineffective and time consuming. Due to this, only a part of all listed companies benefits from the attention of financial analysts, while smaller companies do not get onto analysts' radar.
At the same time, there are many other PDF documents produced by businesses that may contain tabular data of interest, e.g., invoices, bills, statements etc.
LENSELL has identified the critical need for a fast and easy to use tabular data extractor, and the team has built TableBits.
TableBits is different from other similar applications on the market in at least 3 ways:
Other applications cater for set document layouts, e.g., invoices, statements, or they use OCR (optical character recognition) that requires the user to train the system. That is, the user needs to feed several documents, all having the same layout, to the system and to teach the system where the tabular data is located.
TableBits uses a different technology, and it does not require the user to do any work; it directly finds and extracts the tabular data from the PDF documents and exports it to CSV (comma separated values) files.
Other applications require the user to commit long term with regular monthly subscriptions where they receive credits to be used at extraction time.
TableBits is much more flexible, and users can extract data and pay as they need.  
Other applications treat all documents in the same way and charge the same fee no matter how long the documents are.
With TableBits, the extraction fee is scaled depending on the document size, so the users save when they extract data from larger documents.
Finally, other applications export the extracted data to a single output file (CSV or Excel file) meaning that the user still needs to work to split that file into relevant sections.

TableBits creates a CSV file for each PDF document page that has a table, making it easier for the user to focus on separate output data sets for analysis.
Visit www.tablebitsonline.com and send any questions and feedback to the team at info@lensell.online.