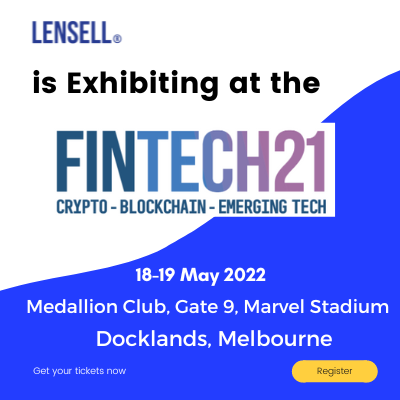 LENSELL is Exhibiting at FINTECH21
Join LENSELL at Fintech21 – the major Fintech event of the year – to hear about how technology and AI help smart investors invest smarter, and discover the latest fintech and blockchain solutions and trends.
LENSELL helps self-directed investors and SMSF make better informed decisions with better data driven insights. It also supports financial planners, financial advisors and other finance professionals scale up their advisory work with clients, using state of the art technology.
Along with providing access to a unique portfolio optimisation tool based on Nobel prize winning research, LENSELL also supports companies transition to digital business reporting and enables LEI registration services at best prices in Australia.
Engage in Fintech 21, which will take place over two days and meet the LENSELL team on May 18 and 19 at stand D5.
Register here  for two days full of panels, workshops and keynote talks. Along with those, an exclusive space will be opened for several networking functions.
During this conference, panels will be hosted by CEOs, founders, entrepreneurs, government officials, and executives from top blockchain and fintech companies discussing critical issues impacting the industry.
LENSELL team will be available on site at Fintech21 (stand D5) and is looking forward to meeting investors, financial advisors, SMSF trustees and SMFS advisers. Everyone will have the opportunity to try Diversiview – the #1 Portfolio Planning and Optimization Tool, ask questions, participate in unique competitions and get special offers on LENSELL products and services.
LENSELL is constantly looking to innovate, to improve transparency and information accessibility in the digital business world. Subscribe to LENSELL's newsletters for news and product updates.