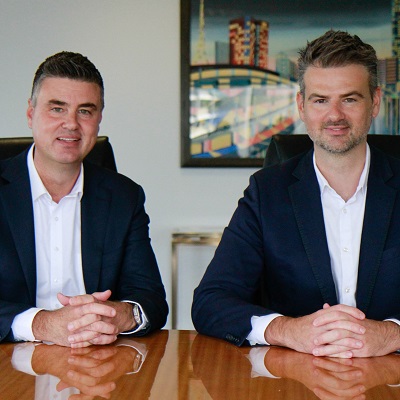 Homely grows yearly revenue by over 20% in challenging market conditions
Homely Group has announced results for the 2023 financial year realising a significant 20.5% increase in annual revenue despite challenging market conditions.
Homely.com.au is one of Australia's largest real estate portals.
"The real estate industry continues to grapple with uncertainties, yet Homely has once again proven its ability to thrive in challenging conditions," said Jason Spencer (pictured – left) who is Co-Founder and Co-CEO of Homely.  "Our strong revenue growth is a direct result of our team's commitment to growth, innovation and focus on providing value to our customers in an environment where our competitors continue to increase their prices."
A key driver behind Homely's third consecutive year of growth is the increase in agencies around the country who have taken up its cost-effective digital advertising product, Homely Plus. In a competitive market, real estate agents need more views per listing and in the last few weeks alone, there has been a surge in sign-ups, with Homely welcoming more than 35 new offices onto its Homely Plus advertising packages.
"Our continued success reflects our focus on developing industry solutions that are cost effective. Our Homely Plus membership has been developed with this in mind to add value to our agent partners, while showing their listings to more buyers and sellers on Homely than ever before," said Adam Spencer (pictured – right), Co-Founder and Co-CEO of Homely.
Homely's core digital advertising revenue continues to increase year on year while the company drives market share through its Homely Plus memberships. The portal is widely supported by many in the Australian real estate industry with nearly 700 strategic industry partners including some of the country's top real estate principals, agents and residential property market influencers.
Other highlights from the FY23 results include a 29.3% rise in direct inquiries on property listings, 51.2% jump in indirect inquiries, and 39.2% increase in engaged consumer subscribers across all platforms over the past 12 months.
Homely combines real estate listings from all over the country with unique local content including suburb reviews, street reviews and Q&A from real locals, helping people make better informed decisions when buying, renting or selling.