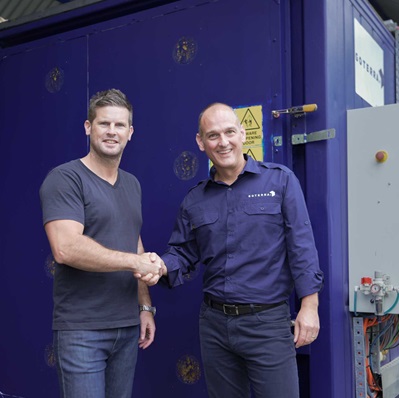 Goterra and Howard Smith Wharves unveil insect powered waste management solution
In a Queensland first, Howard Smith Wharves and Goterra unveiled a groundbreaking initiative with the deployment of Goterra's innovative technology on-site at the precinct. This cutting-edge solution, powered by insect technology, revolutionises food waste management at the precinct, marking a significant stride towards a greener and more sustainable future for the hospitality industry.
Goterra, a trailblazing Australian climate tech start-up, aims to mitigate food waste and combat climate change. Their collaboration with Howard Smith Wharves is focused on building the world's most sustainable precinct.
CEO of Howard Smith Wharves, Luke Fraser, said, "Our core sustainability focus is to ensure that waste generated across our venues is separated, segregated and recycled. We currently divert 96% of waste from landfills by utilising 17 different waste streams."
"By bringing Goterra into our precinct, we are adding another innovative solution to waste streams by harnessing the natural power of insects and transforming waste into fertiliser."
"It's our vision at Howard Smith Wharves to become the most sustainable precinct on the planet. We want to redefine the benchmark for sustainability in the hospitality industry in Australia." Mr Fraser said.
Olympia Yarger, CEO and founder of Goterra, said, "Aligning with Howard Smith Wharves is a natural development in our mission. Engaging with sustainability-centric partners enables us to transform waste streams into regenerative by-products," Yarger said.
Yarger highlighted the gravity of food waste's carbon footprint, which stands at 8% of global greenhouse gas emissions, underscoring a crucial area for intervention. "Collaborative efforts like this not only address a pressing global issue but also contribute to narrowing the food gap by generating sustainable fertiliser and insect protein."
The launch signals a new phase in Goterra's Australian expansion journey, Yarger said. "Realising a circular economy hinges on our ability to access, reuse, repurpose, or recycle inputs. Goterra's modular, deployable solutions epitomise efficiency in resolving immediate customer challenges while fostering circular economy capabilities," the release stated.
The installation at Howard Smith Wharves is a Queensland first, setting a precedent in on-site food waste processing using insects. The sustainability ethos ingrained at Howard Smith Wharves garnered recognition from the Commonwealth Bank of Australia, catalysing the collaboration with Goterra through a Sustainability-Linked Loan
"It's of global importance that we reduce our footprint and make informed decisions about lasting environmental impacts. In Australia, with our goal of reaching net-zero by 2050, we must ensure that sustainability is not just a one-off but business as usual. We have an open-door policy to allow the community to experience our equipment and processes in action to inspire wide-spread adaptation of similar practices," Mr Fraser said.