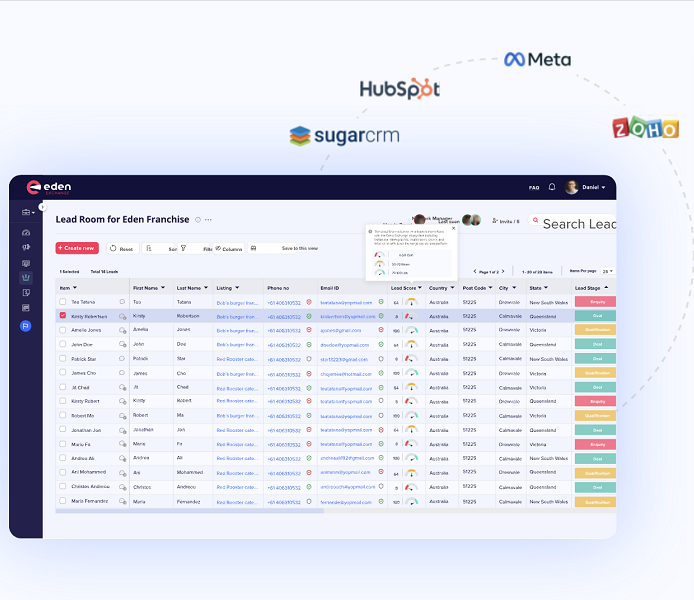 Eden Exchange unveils DealXchange: The standalone platform transforming business and franchise sales
Eden Exchange, a revolutionary online platform for buying and selling businesses, today announces the launch of its DealXchange platform. By operating as a standalone platform separate from Eden Exchange's managed services, DealXchange offers businesses the flexibility and transparency they need to thrive on the international stage.
According to the Australian Business Growth Index, the trend of Australian SMEs (small-to-medium enterprise) operating outside of the country is on a remarkable rise. Currently, one-third (34%) of Aussie SMEs conduct business operations internationally. However, this figure is projected to double, with over two-thirds of SMEs planning to be operational outside of Australia by 2027.
With an intuitive interface and flexibility baked in, DealXchange redefines efficiency, collaboration and success, empowering users to achieve remarkable outcomes in business and franchise sales. Designed specifically to meet the needs of sellers, franchisors, brokers, buyers, advisors and mergers and acquisitions, the DealXchange platform provides:
A Virtual Lead Room: DealXchange is a lead room catered to users' specific needs in the process of selling a business. It is customisable, allowing users to collaborate, communicate and manage the business buying or selling process all in one place.
Document Sharing: DealXchange allows users to securely share and store signed documents with ease. Its reliable storage system ensures important documents are safe, organised and easily accessible.
Deal Workflow Management: With DealXchange, users can manage their deals from lead generation to closing, effectively taking control of the entire journey. From sourcing high-quality leads to qualifying and nurturing them, the platform provides the tools needed to streamline the buying/selling process.
Unmatched Lead Generation: DealXchange's proprietary technology easily captures any existing lead generation source, allowing users to manage, qualify and convert to deal without ever leaving the platform.
Raghu Rajakumar, Founder and CEO of Eden Exchange, said, "DealXchange marks a significant milestone in our mission to redefine business transactions. Traditionally, business owners have faced limited visibility, entrusting the entire success of their sale to third-party intermediaries. This lack of transparency often led to uncertainty and challenges throughout the transaction. By providing enhanced flexibility and transparency, our standalone platform enables users to take control of their deals like never before. It's essentially democratising the entire business buying and selling process.
"As a significant number of SMEs expand their operations outside of Australia, we look forward to supporting them to confidently navigate the complexities of global business transactions, connect with potential partners and investors worldwide and make their mark on the international stage."
Eden Exchange is filling a significant gap in the market, revolutionising the way businesses are bought and sold by leveraging technology. Trusted by more than 150 franchisors, including beloved household names like The Cheesecake Shop, Red Rooster and Pizza Hut, Eden Exchange facilitates seamless connections between buyers, deal makers and sellers; fundamentally, transforming the traditional processes involved in business transactions.
Discover how DealXchange can transform your business and open up new horizons. To learn more, please click here.