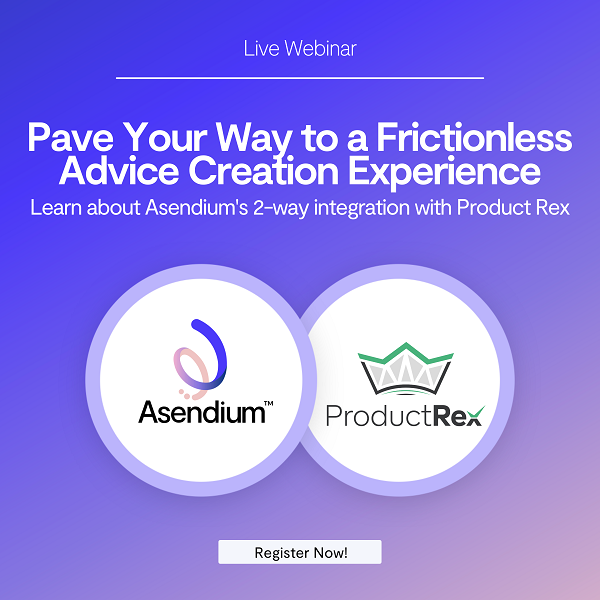 Asendium announces integration with ProductRex for real-time investment comparisons
Financial advice disruptor Asendium has announced it has partnered with ProductRex to provide advisers with real-time comparison between investment products based on the specific needs of advised clients.
Asendium's two-way integration with ProductRex provides financial planning teams with a seamless comparison experience to help them complete statements of advice for comprehensive and scaled advice across investment, superannuation, and retirement
planning.
ProductRex is an investment research and recommendation tool for Australian financial advisers. After inputting the investment recommendations, users are given immediate information on the impact of fees, asset allocation and features of the recommended
products. Advisers can show this to their clients in real time using ProductRex's Client Mode function or export it into a word document – with formatting that matches their SoAs – for immediate use in advice documentation.
Utilising ProductRex's product comparison software, Asendium users can compare and recommend their desired portfolios including pulling over all the data points required to complete the Statement of Advice in Asendium.
Examples of the data points that are pulled over include:
• The recommended, existing, and alternative platforms and investments
• The associated fees and a like-for-like comparison
• A range of investment options including managed funds, ETFs, direct equities and more
"At Asendium, our vision is to help financial planning teams thrive and part of that vision is partnering with key technology providers that are changing the game in their respective fields," Asendium CEO, Scott Miller, said. "Our mantra is to build on the principle of
'automate where you can and humanise where you must'.
"While Asendium's configurable advice creation solution helps financial planning teams deliver next day comprehensive and scaled advice, Product Rex is innovating the legacy, clunky experience of product comparisons."
"ProductRex is the only financial advice software that is truly free-to-use and operates on an advertising model – no setup costs, no ongoing costs, no tiers, no freemium," ProductRex Managing Director, Nick Topham, said.
"In addition to this extremely low price point, we offer the most accurate fee comparisons in the market, with features that simply do not exist elsewhere, including integrated family fee aggregation, in-built rate cards and automatic assignment of investments to the appropriate fee structures.
"Asendium aligns really well to our own priorities and I am excited to join forces to help deliver the new wave of advice software, which I believe will seriously disrupt the status quo."
To learn more about the integration, please register and attend their upcoming webinar on Thursday, 21st April 2022 at 11:00am – register here.