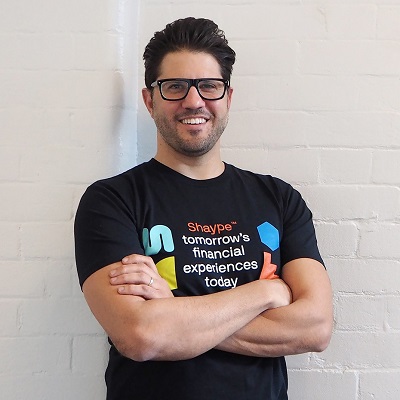 Alexi Paxinos joins Shaype as Head of Business Development
Alexi Paxinos has joined Shaype as Head of Business Development in the latest round of new company hires by the Sydney-based global fintech. 

Alexi is a proven sales leader in payments, identity and connectivity, who has previously worked at IDEMIA, Visa, GRC Institute and Westpac.  

"I am thrilled to join the talented team at Shaype and be part of their next growth phase," Alexi said.  

"Shaype has been confidently enabling businesses to embed payment services in their customer propositions, and businesses have been choosing Shaype because they know the team can deliver capably, quickly and flexibly," he added. 

Shaype's powerful and flexible embedded finance platform enables clients like CommBank's x15ventures and Nano Digital Home Loans to build unique financial experiences faster, smarter and with more confidence. 

Welcoming Alexi Paxinos, Shaype's CEO & Founder Andrew Laycock said, "We're thrilled to welcome Alexi into the Shaype team as we accelerate growth. He brings with him a wealth of experience in financial services, payments, and technology. We met Alexi many years ago while he was at Visa and we were impressed by his leadership and his ability to inspire confidence in us, solve problems and deliver value at every engagement. Not only a skilled member of the team, he is a great ambassador for our values."  
It has been estimated that the global embedded finance opportunity will be worth US$7 trillion in the next 10 years.   
Explaining further why he is excited to move into embedded finance, Alexi said, "I think that Shaype's offering is good for the Australian economy as it enables different financial services propositions to emerge faster and more cost effectively. This encourages competition and innovation within businesses, which in turn gives their customers a better experience, more choice and convenience in how they manage their finances."  
Shaype now has over 100 employees globally with offices in Sydney, London, Belfast, Glasgow and Warsaw.